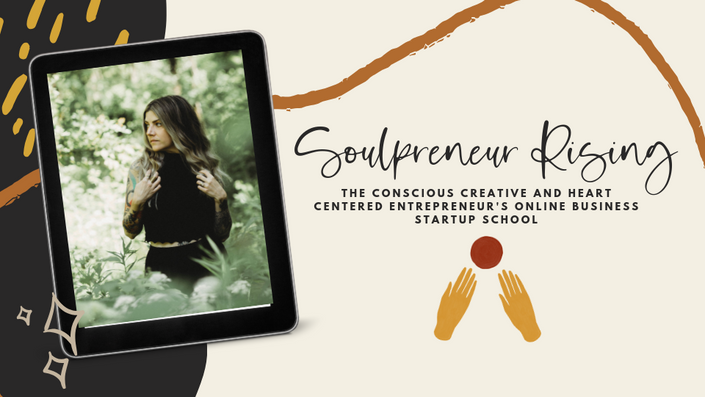 Soulpreneur Rising Business Development Program
THE CONSCIOUS CREATIVE AND HEART CENTERED ENTREPRENEUR'S ONLINE BUSINESS STARTUP SCHOOL
The Soulpreneur Rising Biz Program was designed for Soulpreneurs who are feeling the call to rise in a way that has them creating a purposeful business that sets their soul on fire and impacts the world in a positive way. Whether you want to start your own business from scratch, whether you want to up level your current business, whether you want to activate your creator power and turn your vision into a reality, or whether you want to take your marketing, networking, and funnel strategies to intentional and authentic new heights, Soulpreneur Rising can get you there.
---

This 3 month business development mentorship will teach you how to get clear and focused on your business ideas. It will help you combine your passions into one nicely aligned business plan. It will teach you how to authentically carve your space out within the conscious business world in a way that has you standing out, shining, and growing your dream business your way, on your terms, and by your own rulebook. You will develop a courageous and authentic presence. You will learn how to honor your authenticity and step fully into your power as an entrepreneur. You will learn how to get aligned with your inner being and create systems and strategies that bring out the best in you. You will learn not only how to develop, build and breathe life into your business vision, but how to get yourself completely in alignment with and open to manifest your dreams and intentions.


Learn the ins and outs of how to develop and soulfully sell your own programs, courses, products and services online while simultaneously developing your most aligned, fulfilled and abundant state of being along the way.
---
We all are fully capable of unlocking crazy greatness within us.
We all have what it takes to get to the next high vibe level of our personal and professional lives.
Sometimes it just takes having the help of someone else to show you just how powerful and magical and capable you truly are. Sometimes it just takes learning how to look at things differently, think differently, and trusting your own intuition. Sometimes it takes learning how to fully embrace your authenticity and establish strategies that have you growing your business and life in a way that will have you manifesting your goals and dreams with total ease. Your natural state is to be authentic, thriving, and abundant AF, and the Soulpreneur Rising Program will teach how to tap into that and let it shine.
---

The Program at a glance

Month 1
▴Foundation | Begin developing your own authentic business plan: From mission statement, to business values, purpose, and speciality, you will get clear and focused as you carve out your own authentic business plan that will be the foundation to which we build on. We also begin establishing power time management schedules that have you mastering your days in a way that has you working smarter and with more intention.


▴ Culture + Movement | Establish your own creative brand: From your brand visuals, mood board, and branding graphics, to your dream clients and customers, you will begin forming your brand in all aspects so that you have a well developed identity that stands out among the masses. We also work on revealing your confidence, your belief, and your self esteem within this portion of the program.


▴Getting Seen + Being Heard | Cultivate soul centered Marketing and Networking Routines: From learning how to develop social media posting plans, to forming your own unique strategies around getting noticed, adding value, and building relationships within your business, you will learn how to cultivate soulful habits around the creation of uniquely branded business content within your online platforms in a way that attracts your dream customers and clients and spreads your business mission like wildfire.


▴Give to Receive | Build your first freemium: We wrap up month 1 by learning how to begin building your first complimentary program, service, or course that will catapult your business influence, helping you to begin the process of positioning yourself as a leader, impactivist, and fierce female entrepreneur on the rise!

Month 2
▴Build it | Learn how to build your first complimentary offering: This month we begin by learning how to build your first free program, course, or service that will begin developing trust, interest and tribe following within your business. Learn how to develop, build, package, promote, and run your first offering. We also begin establishing time management systems that will have you managing your time as you begin building your offerings.

▴ Voice Development | Cultivating confidence and leadership within your business: This month we continue further developing your networking skills by going the extra mile in learning how to speak your truth, release blocks holding you back, and fully voicing your business mission with belief. You will learn how to speak to potential clients, convert potential clients and customers, and enroll potential clients and customers into your offerings.


▴Attract what you Dream | Cultivating influence in your online marketing: This month we continue further developing your marketing strategies in a way that has you confidently creating content and influence within your social media platforms. From learning how to better develop your brand, to adding value into your news feeds, to increasing your following, you will be locked and loaded with the skills that have you attracting clients and customers into your business in total alignment with your authentic self.


▴Design the Dream | Paid offering creation: We end month 2 by beginning to create your outline for your first paid program. Alongside beginning to start building your paid program, service or course, you also are provided with teachings on how to coach and mentor customers and clients, how to build landing and sales pages, how to generate opt in forms and how to begin designing funnels within your business. By the end of month two you are fully set up with systems, strategies, and the right mindset to enter month 3 full force where we begin cultivating your paid offering ideas!
Month 3
▴Content Creation | Design, build, and breathe life into your creative program, service, or course ideas: We kick off month 3 by creating content plans, outlines, modules and lessons for your first paid offering. This month is all about continuing to sharpen your creative skills by learning how to trust your intuition, your gifts, and your business specialty as you build your offering.


▴ Become a magnet for what you want | Promoting your business: This month we continue learning how to master marketing and networking our business online through further developing stand out, sassy, and authentic strategies that build massive hype, interest, and awareness around your business programs, services and courses. We align you with the right people, the right mindset, the right confidence, and the right content that will attract customers and clients into your business. You will set up funnels and systems that convert in a way that feels good for you.

▴Package and Impact | Learn how to fully create, launch, and sell your paid offerings: This month we go in deep detail on how to successfully and effectively package your programs, services and courses as well as how to sell them. From setting up sales and landing pages, to websites, to brand up leveling, you will have a fully functioning and thriving business by this stage that is open to take on paying customers and clients, all the while doing so in total alignment to your truth, your authenticity, and your souls calling.


▴Long Term Success | Scaling and sustaining your business: We end the 3 month journey together by setting up long term systems for your business as well as setting up technical aspects such as scaleable marketing and networking strategies, long term promotional plans, time management and scheduling your business for the long haul, and thinking bigger picture with your dreams so that you have a tunnel vision on where you are heading and what is possible for you as you continue building and running your creative impact biz! We also work on mindset in a way that has you believing in your potential and unlocking your full power as you continue forward.
---


What to Expect

▴You receive a 3 month, 12 module lesson plan containing roughly 90 lessons, where each lesson has extensive step by step processes for you to follow, all the while doing so YOUR authentic way. *This is not a program that teaches you how to do it my way, it is a program that emphasizes and teaches the importance of learning how to grow an aligned business YOUR way!

▴1:1 mentorship, where you receive weekly coaching calls on top of your course content. These coaching sessions are where the real magic happens, for we work through the inner and outer parts of creating and manifesting your impact business....flowing through both mindset, alignment, authenticity and truth activation as well as how to design, build and create your dream business offers.

▴You are given lifetime access to Natalie Brite's coaching membership community, align&flow, where you have access to Natalie and other like minds.
---


What kind of support do I receive through the program?

This is a 1:1 mentorship opportunity along with receiving a 3 month program lesson plan. Within the 3 month mentorship, you receive 1 weekly 45 minute video or phone call where we go deep into where you are currently at within the program.


Self Investment Price:
$444/mo or $1,333 in full

*Payment Plans available
*This is a 1:1 mentorship program
This program is now accepting new clients for September 2019 session.
Contact Natalie or CLICK HERE to get on her waitlist to start the next open session.
Your Instructor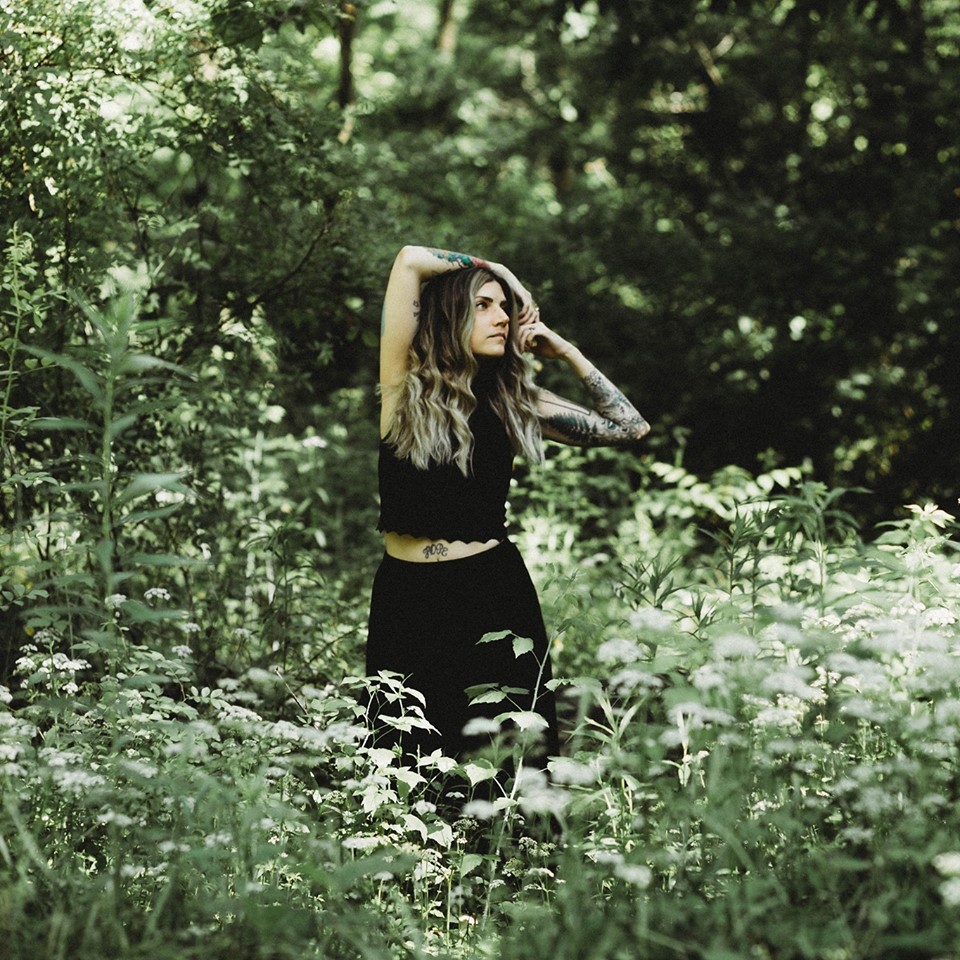 Natalie Brite is a Business + Leadership Educator that specializes in supporting conscious visionaries + creative entrepreneurs in starting + sustaining their online business. She teaches new paradigm principles for developing your brand, service/product suite, marketing strategies, and sustainable business funnel. Her unique approach is one that emphasizes sovereign self expression as the catalyst to creating a thriving business that positively impacts + gives back to the creator, the society, and the planet in the process.
To learn more about Natalie Brite, visit www.nataliebrite.com
Course Curriculum
WEEK 1: Developing Your Authentic, Conscious Business Plan
Available in days
days after you enroll
WEEK 2: Developing an Authentic, Stand Out Business Brand
Available in days
days after you enroll
WEEK 3: Authentic Attraction Marketing and Voice Development
Available in days
days after you enroll
Frequently Asked Questions
When does the course start and finish?
The course starts now and never ends! It is a completely self-paced online course - you decide when you start and when you finish.
How long do I have access to the course?
How does lifetime access sound? After enrolling, you have unlimited access to this course for as long as you like - across any and all devices you own.
This course is closed for enrollment.