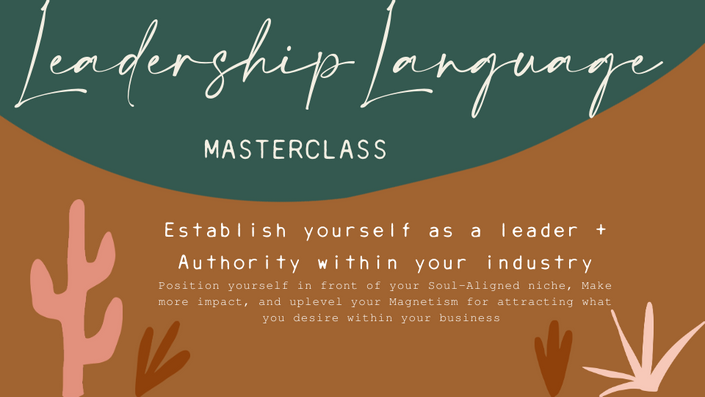 LEADERSHIP LANGUAGE MASTERCLASS
Position yourself in front of your Soul-Aligned niche, Make more impact, and uplevel your Magnetism for attracting what you desire within your business
Leadership Language Masterclass
Activate your voice and ignite your light leadership by learning how to clarify, speak to, and attract your soul-aligned niche audience
---
Hands down, The skill that creates the most momentum in your business is: Leadership Language.
No matter how great your marketing, networking, & sacred services are.... no matter how awesome your strategies & systems are... if the language isn't there to create connective tissue, everything else falls flat. And that's coming from someone who teaches sacred strategies! Your language is what activates & creates magnetism within strategies & systems. Your language is how you authentically express your gifts, clearly share your medicine, & attract soul-aligned people.

Words are our primary mode for communicating as humans. if we struggle TO communicate our medicine through our messaging, writing, & language, we will feel a disconnect with our audience & a disconnect in actualizing results.

---
This class will give you:
~1 recorded Masterclass: You will be provided with a video class recording that walks you through the ins and outs of learning how to up-level your voice, language, leadership, and niche audience attraction within your online business.
~The skills you need to enhance your authentic expression, confidence, and clarity within your business so that you can more effectively attract and connect with your soul-aligned clients and customers.
~The knowledge on how to have your medicine and service resonate and connect with those who need your gifts.
~The know-how in attracting + being the magnet when it comes to calling in your aligned niche.
~The ability to speak directly to your ideal niche by learning how to cultivate a niche that is hyper-aligned to your signature personality, gifts, and style.
~The skills to build authentic connections and relationships with your network so that you can increase exposure, visibility, brand awareness, and genuine interest in your services.
~The understanding in how to write different types of content that creates magnetism and interest within your soul-aligned niche.
~The ability to speak your truth with full belief in your services by learning how to cultivate your belief in the worth and value of your medicine.
~The knowledge on how to approach effective sacred selling from a space of honoring your values, mission, and intuitive heart-space.
~Access to the slide deck that contains the power-point lesson plan so you can go back through the journal prompts and active copy-development prompts.
~Access to Natalie's private coaching community, Align&Flow, for additional support.
---
To begin improving your leadership language skills so that you can start attracting your soul-aligned customers and clients, join the class below!

Contact Natalie with any questions!
Your Instructor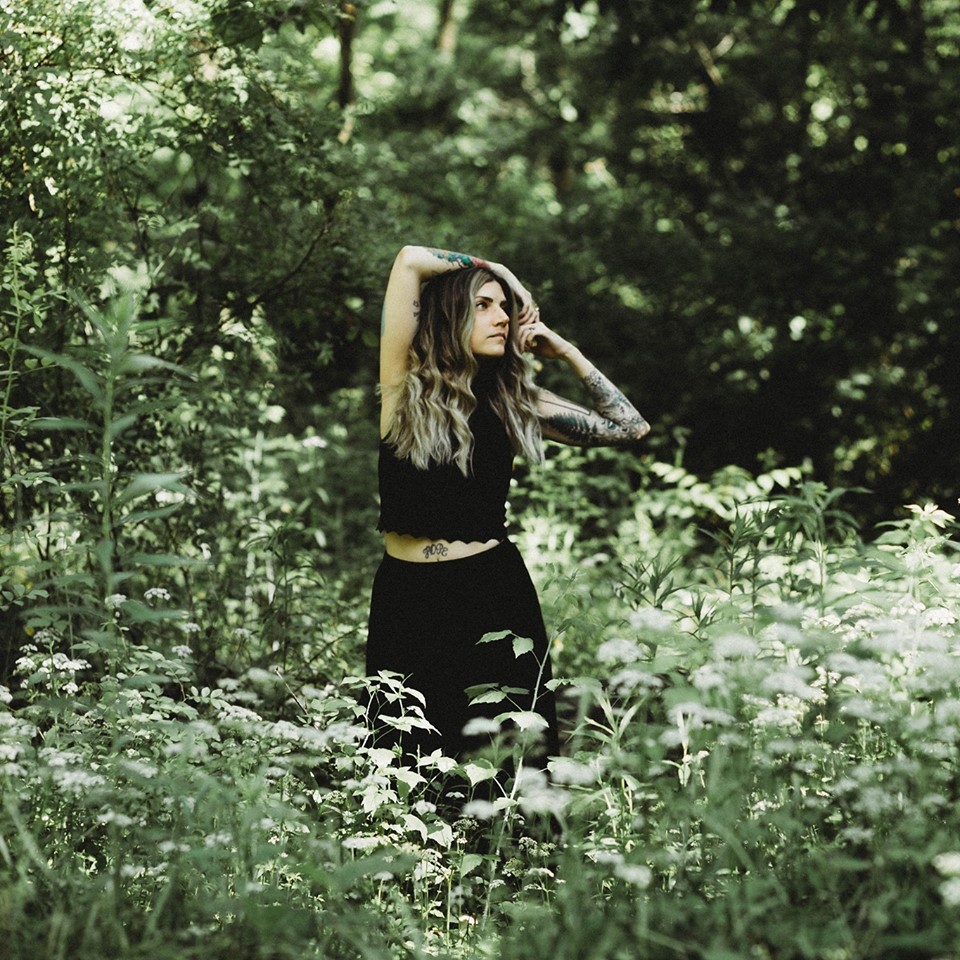 Hi! I'm Natalie Brite, Conscious Business + Leadership Educator out of Portland, Oregon. I am a Leo Sun, Pisces Moon, Manifesting Generator that heavily embodies the rebel, magician, and creator archetypes. What does all of that mean? Well, I am a multi-passionate creative that is pretty fiery, energetic, and driven by default. I am an architect personality type that makes me someone who is very visionary, innovative, and forward-thinking in my approaches to business and life. My signature energetic code has been my guiding compass that has supported me in developing the concepts I teach within my company.

What has led me to doing the work I do today has been due to a compilation of many years worth of experience in the industries of service providing, wellness, and the arts. I come from the background of studying art and philosophy in college, to then going back to school for cosmetology. Throughout the years I have studied everything from design, branding, art, philosophy, consciousness, energy healing, earth+plant medicine, leadership, sociology, ethics, economics, psychology, quantum physics, and more. Being someone who is passionate about a lot of things has equipped me with years of knowledge that I now use to support my clients in building their businesses with. I am forever a student and always expanded my knowledge so that I can stay relevant to current times and best serve my community from the space of integrity, compassion, diversity, and inclusion.

I am motivated by the idea of changing business paradigms and re-imagining entrepreneurship in a way that allows us to do work that positively impacts + gives back to ourselves, society, and the planet. It is my mission to guide you in activating your own signature energetic code for how you want to create + lead your business and life paired with guiding you in developing your own authentic channel for your creative gifts to flow on so that you can do the work you love + make the impact you desire in a way that also gives back to you.

To learn more about Natalie's work, visit: www.nataliebrite.com
Contact Natalie: [email protected] or [email protected]
- - - - -
Diversity makes our world beautiful.
Creating a safe space for you to be who you are.
We are committed to inclusion and equality across gender, age, race, ethnicity, identity and personal experience. We believe that business can be a powerful platform for contributing to social change and we are committed to creating a culture where everyone is encouraged to bring their truth, authenticity, and fullest expression of self into our platform. We are here to foster a learning environment that makes our teaching universally accessible for all; one that encourages, celebrates and supports the diverse voices of our team, clients, customers, and students.
Course Curriculum
PREPARING FOR THE CLASS: START HERE
Available in days
days after you enroll
Frequently Asked Questions
How long do I have access to the class?
How does lifetime access sound? After enrolling, you have unlimited access to this class for as long as you like - across any and all devices you own.
What if I am unhappy with the class?
There is a 30 day Teachable refund policy upon purchasing.