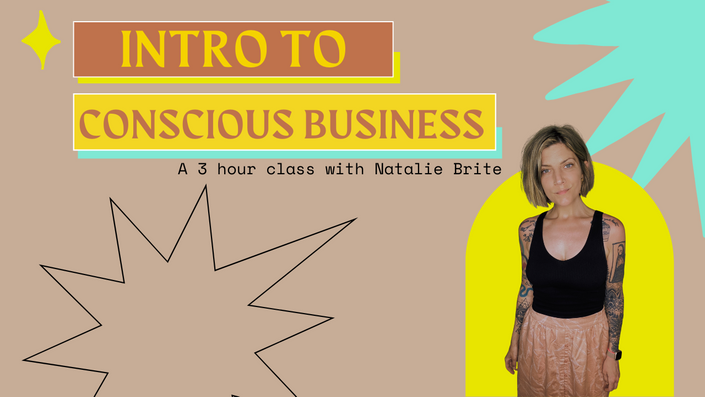 Intro to Conscious Business Class
Humanize your business and make lasting impact: Learn how to integrate ethics, sustainability and a greater purpose into how you practice business
Intro to Conscious Business Class with Natalie Brite
Humanize your business and make lasting impact.
Welcome to the class that will teach you how to integrate ethics, sustainability and a greater purpose into how you practice business
The purpose of this class is to support innovative entrepreneurs and creative business owners in laying the foundations for a new way of doing business that contributes to creating a more sustainable and equitable future. Now more than ever before we are seeing a rise in businesses taking a stance on worldly issues. As well, consumers are changing their habits to be driven by the alignment they feel toward what a brand and business stands for. No longer are consumers solely making purchasing decisions blindly and unconsciously. We are seeing a rise in conscious consumerism which in turn requires businesses and brands to practice conscious business. Todays conscious, ethical and sustainable businesses will be the industry leaders of tomorrow.
---
Conscious business is not just about how we do business, its about changing how we exist and relate with the world.
When defining conscious business, I find it most helpful to first and foremost take a look at, what I refer to as, the 'old paradigm business model'. In order to understand what conscious business is, we must also define what conscious business is not as well as how it differs from the traditional approaches to business.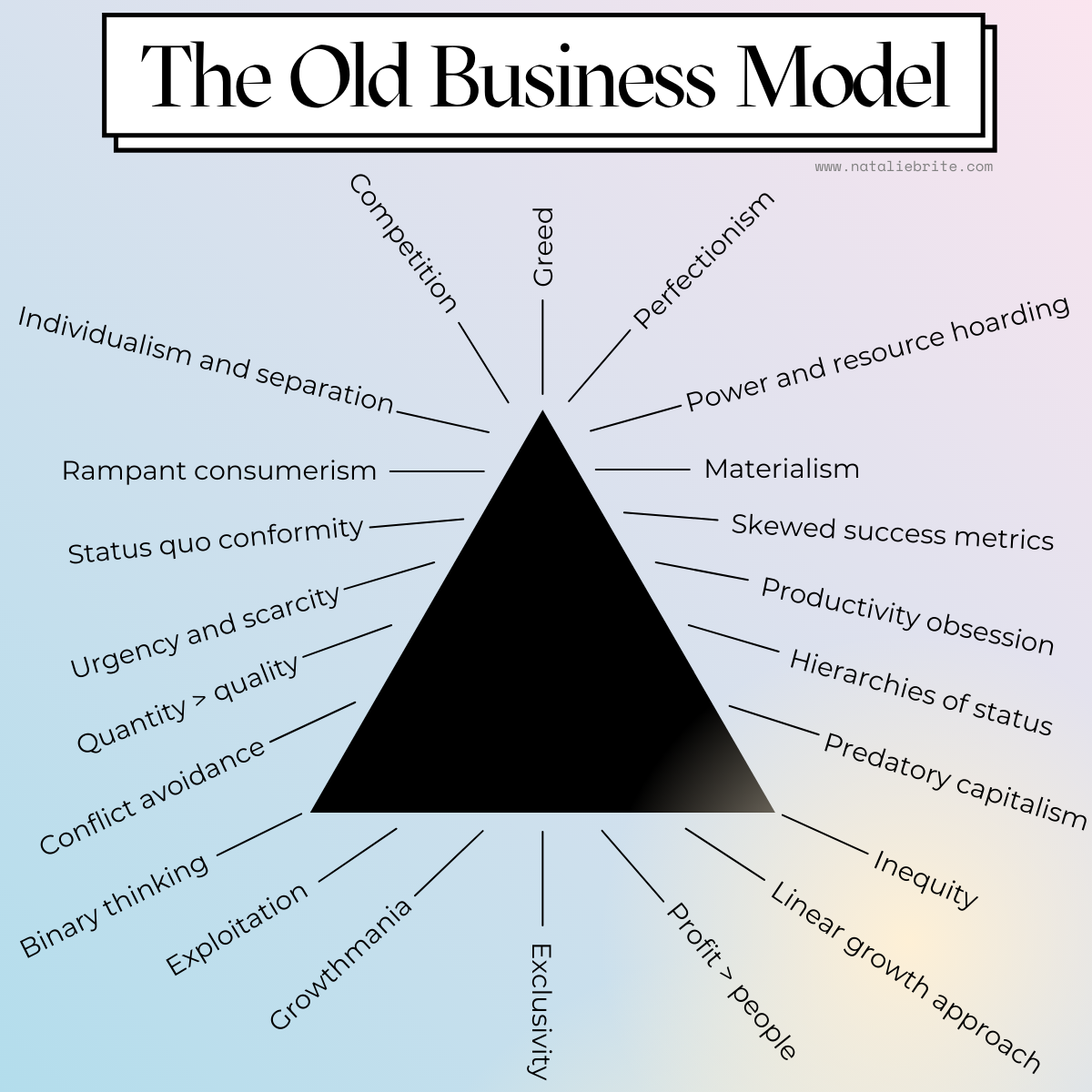 In order to understand the power of shifting into a conscious approach to business and entrepreneurship requires us to understand what the costs are in not doing so. The first image represents the old business model and reflects common characteristics that drive much of how business is approached on a whole. What is critical to note here is the importance of understanding how business impacts society and the planet on a macro level. In many ways, businesses help to create as well as uphold many of the social constructs we know so well that we may participate in them from a completely unconscious space (without even knowing we are!). Businesses hold great responsibility because they contribute to establishing norms within our cultures. We can see this play out very clearly by examining specific industries. I will use the Beauty Industry as an example. The beauty industry influences us on a social level to great extent, from playing off our insecurities as well as our desire to fit into socially acceptable definitions of beauty. The beauty industry has the power to enforce definitions of beauty through things like advertising and marketing campaigns. We, as the consumers, consume these materials and are influenced by them as a byproduct…some of this influence causing negative effects on us individually as well as collectively. The parts that are addressed to make up the old paradigm of business as listed on the image to the left are traditional modes of operation for many businesses today. The ripple effect these traditions have on society and the planet can be felt by every single person regardless of your social, economic, political, cultural, religious or otherwise status. Though we can all experience the consequences of these outdated norms for practicing business, these parts addressed do not impact us all the same way. These parts uphold systems of inequity, oppression, marginalization and supremacy. Those who benefit from the upholding of those systems tend to be those with the most power and pull to keep these traditions alive and well, often at the cost of those who are largely not benefiting from this model.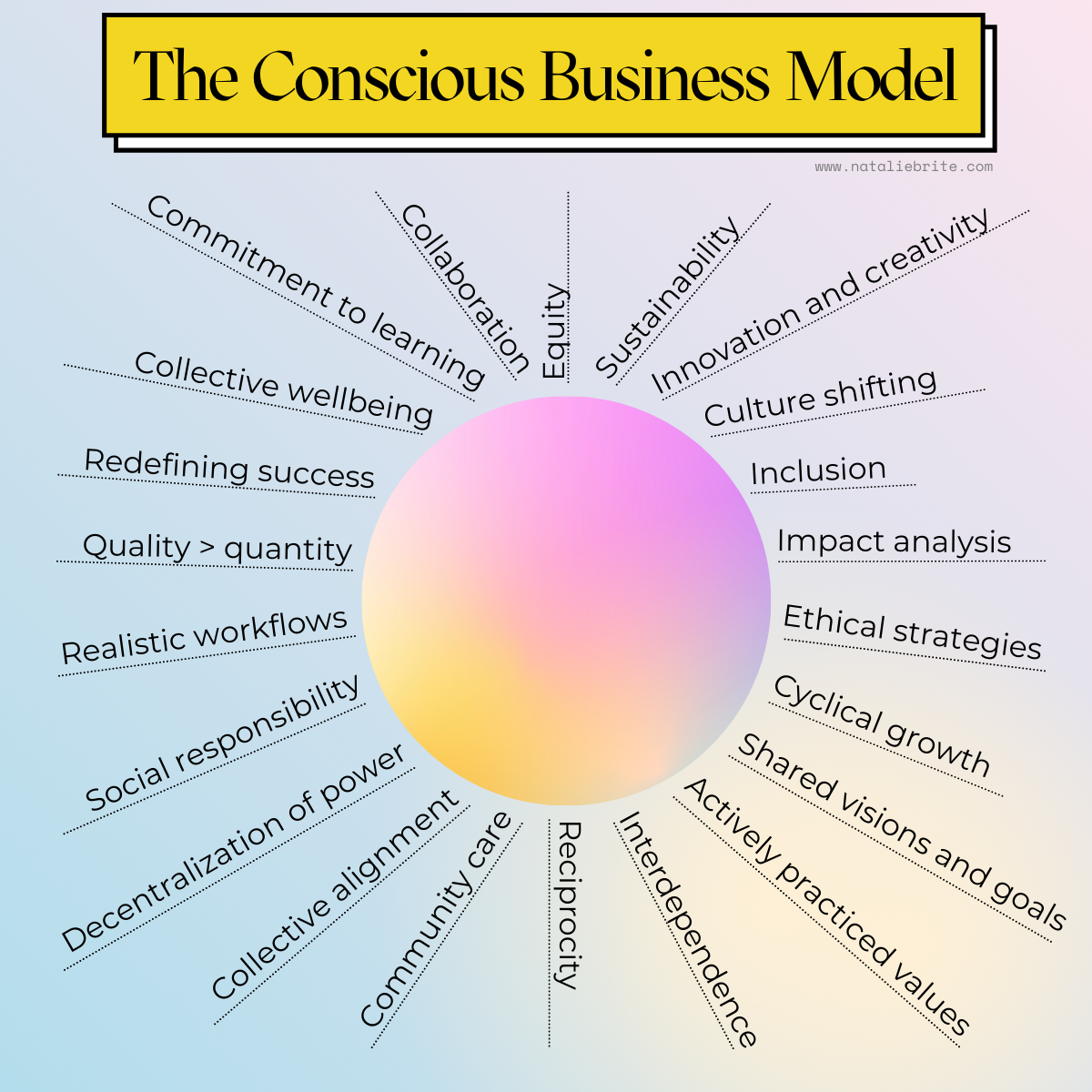 Differently from the image that represents the old paradigm way of doing business, this image reflects the parts that encompass a conscious business model. As you can see, the parts represented here are quite differing from the image above. A conscious business model is rooted in concepts that create an interdependent and symbiotic relationship between a business, society and the planet. The business does not exist outside of or separate from society and the planet, but rather, it belongs to society and the planet and thus has a responsibility to society and the planet. I like to think of conscious business in relation to nature and creating balance within ecosystems that exist in nature. In order for an ecosystem in nature to flourish and thrive, each and every part within the ecosystem needs to be well tended to so that it can individually flourish and thrive. When one part of an ecosystem is off, it throws off the ecosystem as a whole. We see this often when a plant is removed from its native land and in its place a non-native plant is introduced. In this example, say that the native plant that was removed was a fruiting plant that native birds depending on for food. As the native plant was removed, so was the native birds primary food source. As the native birds population declines as a result, this also then impacts the surrounding ecosystem for birds are largely responsible for redistributing seeds that support the population of plants (which ultimately can impact other creatures food sources, decreasing their population as well). Now also say that the non-native plant introduced in place of the native plant is an invasive plant. Invasive, non-native plants are notorious for causing harm to ecosystems, from taking over land and killing off other plants in the process to even harming the wildlife in the area. I could keep going on with this example but the essential part here is to relate this to business and how business is a part of our social as well as environmental systems. When we take invasive approaches to business that can harm society or the planet, we set off a chain reaction of negative consequences. This is why practicing conscious business is not just a feel good idea, but a critical one for it protects and preserves the wellbeing of the collective.
---
The purpose of this class is to support innovative entrepreneurs and creative business owners in laying the foundations for a new way of doing business that contributes to creating a more sustainable and equitable future.
Though it may feel like the idea of conscious business is new, it's actually been around as long as humans have existed in community with that which is around us. No matter what time in history you look back on, you will be able to find some representation of what I would consider to be conscious business. Conscious business is as much of a mindset and philosophy as it is a way of existing in relationship to the world.
A glimpse at the class syllabus and what you can expect to learn:
What is Conscious Business
The differences between old business model VS a conscious business model
The parts of a Conscious Business model and how to implement
Impact frameworks for change and how to practice them
Culture shifting and social responsibility
Types of Conscious Entrepreneurs and strategies for each
Circular economy and re-imagining capitalism
Sustainable Business Principles
Collaborative, inclusive and social leadership
How to develop emotional and cultural intelligence
Understanding and uncovering Biases
How to put into place a conscious business model, business plan, and business strategies
---
Accessibility notes:
This class consists of 5 videos equalling roughly 3 hours of education and implementation work.
The class also provides you with a slide deck that can act as your course material (downloadable/printable). Finally, you will also have access to audio versions of the class as well as transcriptions of each video from the class.
---
This is a self study, go at your own pace class.
You are welcome to contact Natalie Brite at any time if you have a question regarding any concepts taught within the curriculum, or to contact Natalie to book a strategy session if you find you need 1:1 support in weaving conscious business principles into the fabric of your organizations operations. For any questions about the class, contact [email protected] or visit www.nataliebrite.com
To begin the class, follow the button to enroll below!
Your Instructor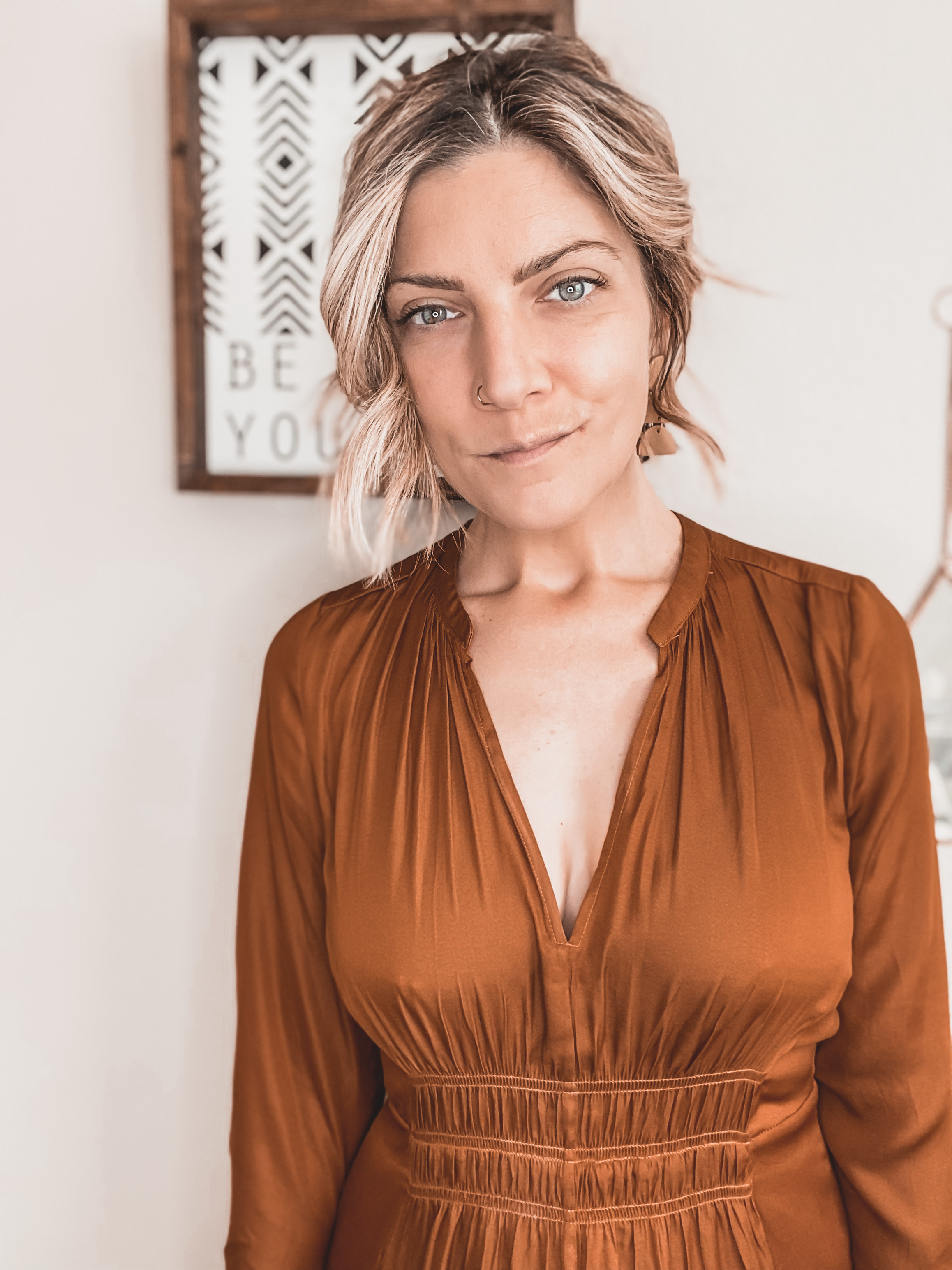 I'm a mentor, educator and creative passionate about the topics of conscious business and sustainable development. I help individuals start, grow, scale and sustain their creative ideas by specializing in strategic planning and systems thinking, branding, marketing, service development and delivery, and project management.
A different world requires a different strategy. Our mission is simple: To support social entrepreneurs and innovators in launching and growing a meaningful business that contributes to sustainable social, environmental and economic impact. We educate, advise, and assist people in developing sustainable business practices that are responsible and conscientious. By empowering people to do work that benefits the whole world, we can contribute to creating long term abundance for businesses, people and the planet.
To learn more about Natalie Brite and her work, visit www.nataliebrite.com
Course Curriculum
Welcome to the Intro to Conscious Business Class
Available in days
days after you enroll
Begin the Class
Available in days
days after you enroll
Resources for additional support
Available in days
days after you enroll
Frequently Asked Questions
When does the course start and finish?
The course starts now and never ends! It is a completely self-paced online course - you decide when you start and when you finish.
How long do I have access to the course?
How does lifetime access sound? After enrolling, you have unlimited access to this course for as long as you like - across any and all devices you own.
What is the refund policy?
Contact Teachable in the first 30 days and they will give you a full refund. To read Natalie's refund policy, visit https://www.nataliebrite.com/privacy-policy
This course is closed for enrollment.