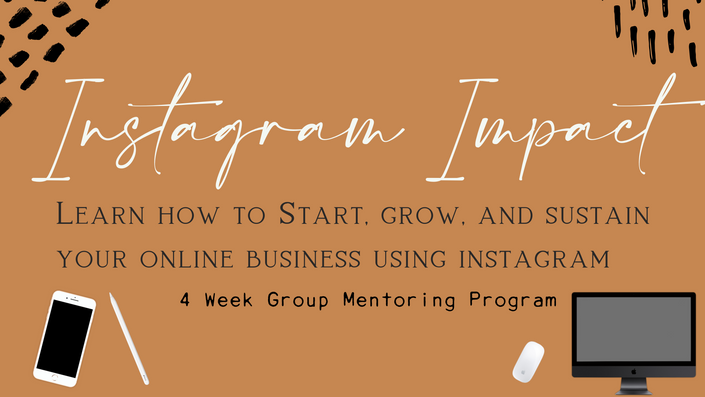 INSTAGRAM IMPACT
learn how to Start, grow, and sustain your online business using instagram || 4 Week Group Mentoring Program
This 4-Week Group Mentoring Program will support Soulcentric Service Providers + Creative Online Business Owners who are struggling with....

+ Increasing engagement, interaction and interest on their Instagram platform
+ Not knowing who your target audience is or how to attract them
+Not knowing how to grow your audience or nurture them
+ Not having a result producing strategy for your IG stories, videos, or content
+ Not knowing how to use IG analytics to figure out your effective methods
+ Not having a content or marketing strategy in place to sustain you
+ Not seeing your content and promotions converting - and don't know why
+ Bringing in your unique creative energy and authenticity, causing you to blend in
+ Creating a consistent and cohesive brand presence that stands out
+ Not knowing how to set up your bio, highlights, and IG grid in a way that easily brings people into your work
+ Knowing what actions to take and what to focus on to generate your desired results
+ Spending too much time scrolling + consuming other peoples content instead of feeling empowered to create your own
+ Having a sales strategy + marketing funnel in place to build interest and conversions into your offerings
Learn how to Start, grow, and sustain your online business
using instagram!

Times of uncertainty and instability call us in to get resourceful with the ways we can create abundance and impact.


We are blessed with inexpensive and creative ways we can generate wealth while also serving others. this is the moment to be proactive + solution-oriented.


---


Imagine how different you would feel if you had your own unique and CLEAR method for how you show up online and embody your brand (and yourself!) instead of feeling the need for someone else to tell you how to be and what to do?


+ Having full clarity toward what you bring to the table that is unique, signature, and different than whats been done before

+ Having total confidence in your skill set, specialty, and personal medicine ... and complete clarity toward how to share it with others

+ Being so connected to your creative gifts that you have no fear to self lead and are completely aware of just how powerful, important, and needed your medicine is for others + this planet

+ Knowing how to access your own guidance and answers to the point that you don't need to ever look outside of yourself to be governed, allowing yourself to amplify your impact and express your authority in ways that easily attracts those that need your offerings

+ Being able to channel your creative ideas and develop your signature concepts in a way that makes content creation EASY and marketing your medicine NATURAL

+ Feeling no fear or hesitation toward selling your sacred offerings because you are in full belief of your work and have a clearly defined method for how you uniquely share your medicine

+ Knowing how to embody your brand and lead others to experience the results you can help them to achieve because you are deeply anchored in knowing who you are, what you stand for, and what you can do for others





When we learn how to show up as our embodied selves in our work, we amplify our ability to attract what we desire into our businesses. The results of making more income, more impact, and actualizing our vision happens as a byproduct of deeply aligning with our personal medicine and then learning how to strategically share it in a way that honors our intuitive nature.





---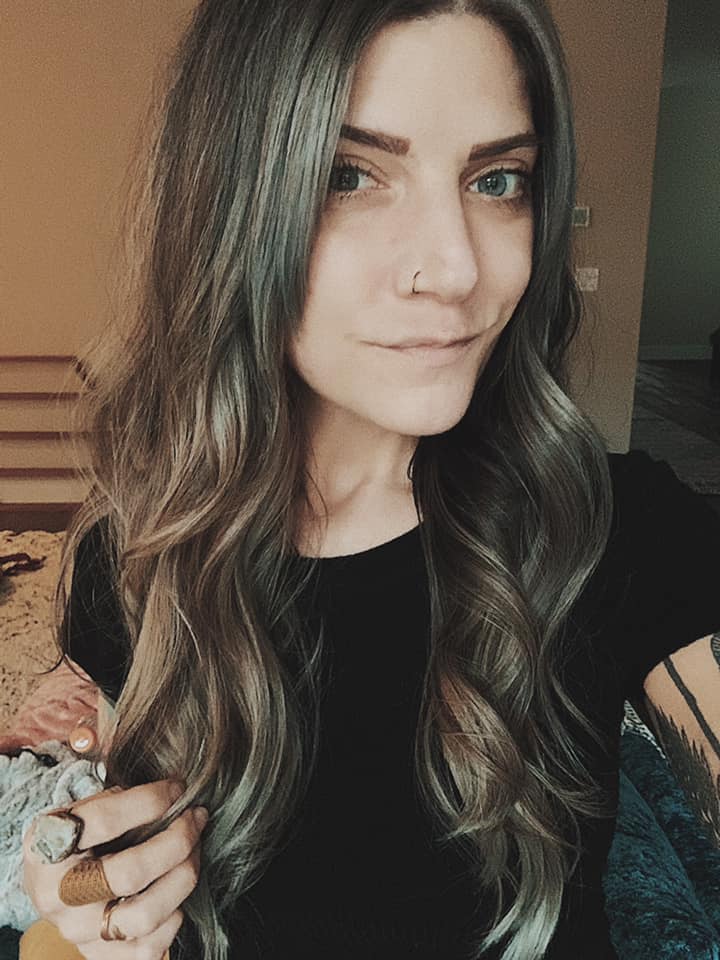 Hi, I'm Natalie Brite ...
Your guide through the Instagram Impact Group Mentoring Program!

I created the Instagram Impact Program because I see the power and potential of this platform to create exponential global change. I believe that social media holds the power to transform and liberate us from a lot of old paradigms that are causing toxic side effects within the collective. We, as Light Leaders, are blessed to exist at a time where we have access to such things as social media to be able to activate our purpose and share our medicine with the world. Now more than ever before, we need to approach these social platforms from a space of intention, meaning, and impact. Social media has the ability to not only support us in creating our most desired personal way of living, but it also holds the power to support us in making a huge difference on this planet.



Instagram is a platform I have been personally using to build my brand and company on for 6 years. Within that time, I have been able to organically and sustainably grow a 40k+ (and growing) actively engaged audience which has directly impacted my my ability to sustain a thriving 6 figure business. Instagram has helped me to sell out 1:1 mentoring containers, group mentoring programs, and online classes...as well as has contributed to the growth a large, vibrant online membership platform. It has also provided me with such a deep sense of commUNITY, belonging, and sacred connection and has helped me unleash my authenticity and creativity in ways i've never experienced before. It's given me a place to develop the courage to be who I am, love what I love, and share my medicine in a meaningful way. To say I love Instagram is an understatement!


I am deeply passionate about teaching others how to use this platform to HELP PEOPLE because I have seen first hand how Instagram can be a VESSEL for accessing boundless personal freedom, unlimited self expression, and a deep sense of purpose ... while also creating a business that impacts the world while sustaining the lifestyle we desire.
WHO THIS PROGRAM IS FOR (AND WHO ITS NOT FOR!)


The Instagram Impact Program is for the womxn who....

+ Are ready to activate their voice, take up space, and live their purpose
+ Are feeling the call in to do work that is meaningful + impactful for the planet
+ Aren't afraid to do the WORK (inner and outer) + are ready to go ALL IN on building their business
+ Love the Instagram Platform and want to ignite their creativity, brand, + authenticity via usage of Instagram
+ Want to learn how to sell their sacred offerings on IG (without selling out, selling their souls, etc!)
+ Want to do business in a an ethical, conscious, well- informed and all inclusive way
+ Find joy and fulfillment in their daily business growth + sustainability tasks
+ Want to have clarity toward what is most important for them to do to make their desired impact + results
+ Want to keep their methods, strategies and systems SIMPLE, easy to follow, and sustainable
+ Want to do business with intention, meaning, and bigger vision purpose for the highest good of ALL
+ Want to be supported in revealing their own unique methods and approaches to using IG in an aligned way
+ Want help with building and nurturing an audience in a way that feels genuine and REAL
+ Want help with crafting content that ATTRACTS and RESONATES with their niche
+ Want help with soulfully launching, promoting, and selling their offerings
+ Want to use Instagram in a healthy way that honors your unique energy, time, and boundaries


The Instagram Impact Program is NOT for womxn who....

+ Are looking for QUICK gains, instantaneous results, and superficial outcomes
+ Are looking to be told what to do and don't want to have to think / decide for themselves
+ Aren't willing to put in the time, effort, and work that it takes to develop an authentic, thriving IG presence
+ Have no desire to be consistent and treat their business like a CEO
+ Are stuck in excuses or want to blame external things on why you're not getting the results you deisre
+ Aren't willing to take radical responsisbility for yourself and your ability to create what you desire
+ Aren't willing to fully commit to themselves, their vision, and their mission
+ Aren't willing to try new things, get uncomfortable, take risks, and think outside of the box
+ Don't have the desire to show up fully to the program and integrate the lessons



The Instagram Impact Program is for the Womxn ready to FULLY COMMIT to their vision

... and willing to do what it takes to CREATE IT!

What's Included + How the Program is Set up....


The Instagram Impact Program is a 4 week group mentoring container that runs from April 13th to May 10th. Within the 4 week period, there will be 4 modules released to you in the program portal (housed in my Teachable Online School). One module will be released each week for you to access and integrate. Each module contains 1 training video and 1 coursebook. Along with the 4 modules, you are also provided with 2 LIVE, interactive Webinars with Natalie Brite, where you will be provided with space to have your Instagram business platform audited, ask questions, and have demo's on any topics covered in the program material that you would like deeper mentoring on. The live webinars are recorded for replay. As part of the program, you will have access to a SLACK chat channel where you can submit questions, share progress, and connect with Natalie and the other program members throughout the four weeks.


Program Perks (in a nutshell):

--4 training videos
--4 printable coursebooks
-2 live webinars with hands on mentoring
-SLACK chat daily accountability and support

COMMON QUESTIONS...


Are there payment plans?

This program offers a SLIDING SCALE payment option for those facing financial hardships. If you have certain financial circumstances that are requiring you to have access to a sliding scale payment method in order to be able to register for this program, contact Natalie ([email protected]) to get set up on a custom, sliding scale, payment plan.


Will there be a scholorship opportunity?

Yes! There will be one scholarship space available for this program, specifically catered to and offered for those in limited financial and under-privileged, and under-represented positions. If you would like to be considered for it, contact Natalie and explain your circumstances.



Are consults offered to see if i'm a good fit?

No, but if you have any questions or need help deciding whether the program is aligned with you, simply reach out to Natalie. She is happy to help provide any guidance.



Is there an application process?

Nope! Natalie has full belief that we will create a BEAUTIFUL communal experience with the most aligned group of womxn. Natalie emphasizes the importance of creating a SAFE SPACE within all her group containers. If at any time there seems to be an issue with being able to hold a safe, respectful and inclusive space, Natalie has the right to remove any members from being able to participate (providing a refund as necessary).


Are there refunds available?

Nope! This program, like anything, is a get what you give experience. You will get out of it what you are willing to put in. If at any time you are unsatisfied with your experience, contact Natalie and we can see how we can take into consideration and resolve your feedback.


This program is currently closed for enrollment. The next round will open for registration in June 2020.
For any questions, contact [email protected]
or visit www.nataliebrite.com
Your Instructor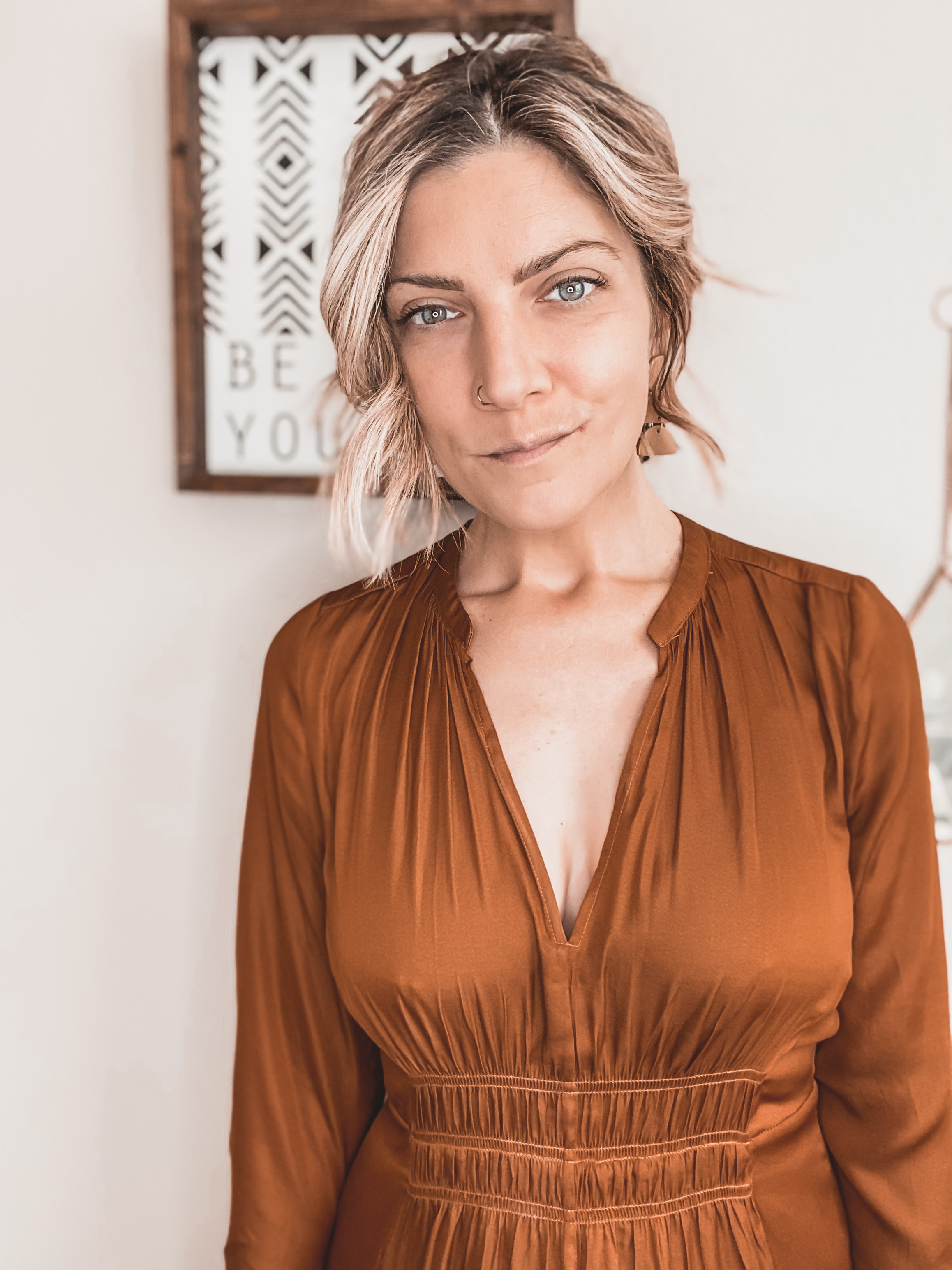 I'm a mentor, educator and creative passionate about the topics of conscious business and sustainable development. I help individuals start, grow, scale and sustain their creative ideas by specializing in strategic planning and systems thinking, branding, marketing, service development and delivery, and project management.
A different world requires a different strategy. Our mission is simple: To support social entrepreneurs and innovators in launching and growing a meaningful business that contributes to sustainable social, environmental and economic impact. We educate, advise, and assist people in developing sustainable business practices that are responsible and conscientious. By empowering people to do work that benefits the whole world, we can contribute to creating long term abundance for businesses, people and the planet.
To learn more about Natalie Brite and her work, visit www.nataliebrite.com
Course Curriculum
Welcome the the Instagram Impact Program
Available in days
days after you enroll
MODULE 1 : FOUNDATIONS + PLATFORM SET UP
Available in days
days after you enroll
MODULE 2: CONTENT CREATION, MEDICINE SHARING + MARKETING STRATEGIES
Available in days
days after you enroll
Frequently Asked Questions
When does the course start and finish?
Module 1 is released on April 13th! The program will end on May 10th.
How long do I have access to the course?
How does lifetime access sound? After enrolling, you have unlimited access to this course for as long as you like - across any and all devices you own.
This course is closed for enrollment.