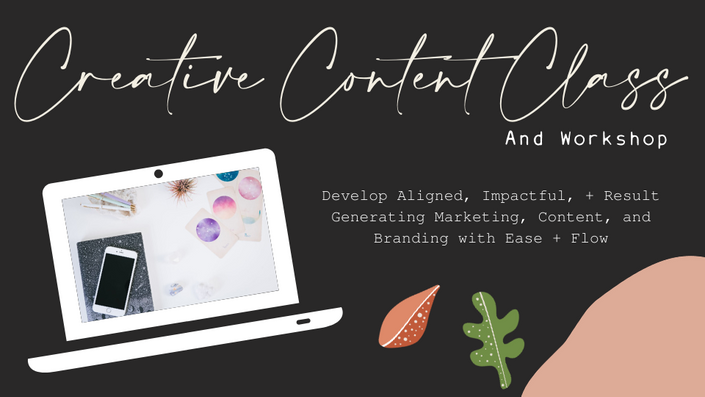 CREATIVE CONTENT MASTERCLASS + WORKSHOP BUNDLE
Develop Aligned, Impactful, + Result Generating Marketing, Content, and Branding with Ease + Flow
CREATIVE CONTENT MASTERCLASS + WORKSHOP with Natalie Brite
The Class + Workshop Replay that makes creating online content, marketing your medicine, and authentically branding yourself easy, fun, and impactful.

How would your feelings toward your work change if you had a highly engaged audience that ate up your content, craved to continually be in your energy, and took action to work with you as a byproduct?
How would things shift in your life if the content you created online and the way in which you marketed your medicine generated consistent, sustainable results for you?
What would your impact on this planet look like if you had a clear, aligned, and FUN strategy in place for your content and marketing strategies that easily attracted your niche?
How would it feel to approach your marketing, content creation, and branding in a way that left you finding ease and flow in bringing people into your services ... where there was no longer the worry, fear, pressure, and doubt as to whether what you are doing or who you are is "enough", "right", or "effective"?
You deserve to create content and market your signature medicine in a way that feels fun, authentic, and impactful. As an online service provider, conscious creative, and spiritual entrepreneur, i'm sure you know that what you share on your social platforms and the content you create to represent your brand is everything. Your content is the way in which you create vibrational resonance with your niche, and how you attract soul-aligned individuals who need and want the offerings you provide in your business. Your marketing material is the first thing that gives your audience an energetic hit, influencing whether they relate to your message and whether they trust that you can support them in activating the results you specialize in helping people to achieve.
Yet, how frustrating is it to feel like your content isnt converting?
As online businesses, we spend a great deal of our time and energy creating content and marketing material. As an entrepreneur, your time is PRECIOUS! There is nothing more dissatisfying than putting in so much work to feel like there is nothing to show for it.
When I first started building businesses online 6 years ago... content creation, marketing, and branding strategies looked A LOT differently than they do now. Building an online brand presence and marketing your business online is one of the fastest growing avenues people take nowadays, where almost every single brand is doing business online. Similarily, entrepreneurship and small business is a fast growing industry, where more and more people are taking to the online platforms to create their legacy and fulfill their souls purpose. With these realms growing, the way in which WE GROW our businesses online has shifted. Old paradigms for how we conduct business are falling away, and in their place new paradigms that are driven by authentic expression, creativity, and unique approaches for how we share our medicine and impact the world.
I get it and know how you're feeling because trust me, i've been here before, too....
You're confused, overwhelmed, and feel like you dont know what to do to get your content and marketing material effectively attracting your niche and converting into people you can serve....Constantly bombarded with other peoples ways of doing things which is causing you to be distracted and disempowered.
Youre hitting upper limits and have no space or time to continue creating content the way you have been (cue in you're doing all the things, posting on all the platforms, and showing up in all the spaces but nothing is actually turning into results)...Which is making you doubt whether you actually can sustain yourself or make your business a real, lucritive, reliable thing.
You know that you need to simplify, scale, automate and work smarter with a more streamlined, authentic method for how you are creating and sharing your content and marketing material...but you have 0 idea how to do so and it feels overwhelming to even think about doing so!
You are in information overload and want to market your medicine in a way that is aligned with you. Youre noticing yourself LOOSING YOURSELF by being constantly "on" social media and you spend more time questioning what you should do or how you should do it than you do actually DOING anything result producing.
You are not seeing the results, conversions, and progress you want to see from your content...and are beginning to be hyper triggered by anyone who IS having success.
You want to find JOY in your creative content process without sacrificing who you are...but right now all you do is question yourself...assuming noone wants what you offer and doubting whether what you are doing is what people actually resonate with.
You don't want to box yourself into having to create content and market yourself like everyone else is doing it...and you fear that bringing in systems and strategies will cause you to lose your intuitive edge.
You feel like youre grasping, guessing and spinning your wheels with your content and marketing strategies, just hoping something will produce results...and are struggling to trust the process.
You are ready to claim your space as a leader and authority online and want to build a powerfully creative, authentic brand presence...but you're hesitant to FULLY step in and boldly market, share, promote and sell your medicine.
You want to prioritize building an active community, real relationships and genuine connection with your niche...but you fear that you will just come off as salesly, fake, phony, and too pushy.
You feel over the place and disjointed with your message, your content, and your funnel...causing you to doubt your own voice or not take the bold actions needed to see the results and impact you desire.
You notice that youre just blending in online and your content isnt reaching and impacting the way you know it can...but you have no idea how to get your content POPPING and your marketing converting.
Is this where you are right now? If you are, welcome to the NORM! Lets face it: We are struggling with our content, our marketing, and seeing our authentic brands make the impact and generate the results we desire. Its time to flip the switch and create a new narrative for how our content, branding, and marketing impacts and converts.
This is where the Creative Content Masterclass and Workshop comes in.
The Creative Content Masterclass and Workshop is for industry paradigm shifters, spiritual service providers, intuitive business owners, and conscious creatives who desire to create content and market their medicine in a way that gives them FULFILLMENT and SATISFACTION in their process for doing so. This is not a class or workshop for individuals that just want a blueprint handed to them for how to create content or establish marketing funnels. This is not a class or workshop for people who just want to be told what plan to follow, what calendar to instill, or what systems and strategies to put into place. This is a class and workshop for people that already have a business concept (atleast somewhat!) established and want to build their content and marketing funnel from the space of ORIGINALITY, AUTHENTICITY, and ALIGNMENT. This class and workshop guides you to tune into your own creative profile and develop your marketing methods by your own design so that you can develop a STAND OUT BRAND PRESENCE that impacts, inspires, and helps you HELP MORE PEOPLE!
This is a 4 Module Masterclass that contains roughly 4 hours of training, teaching, and curriculum!
---
Within this class and workshop, you will learn how to:
-Develop sacred content creation processes, practices and rituals
-Develop content clarity by anchoring into your medicine message, concept, niche, and superpowers
-Develop your own signature content plan, strategy, system and funnel
You will also learn how to:
-Create a powerful brand presence through visual expression
-Create content that is authentic and original
-Create effective content copy writing that activates your voice
-Create powerful service speak that allows you to share and sell your medicine
And finally, you will additionally learn how to:
-Build a sustainable marketing and content funnel
-Scale, automate, streamline and simplify your content and marketing methods
-Grow an engaged and active audience as a byproduct of your creative content
-Amplify your attraction, magnetism and impact so you can attract your soul-aligned niche and serve those who need your medicine
How is this Class and Workshop different, you ask?
Well, for starters you get Natalie Brite supporting you every step of the way! Natalie has been working within the realms of online business for over half a decade. Within that time, she has learned a thing or two about what works and what doesnt in the spaces of content creation, marketing and branding ... and has spent a great deal of her career developing signature frameworks for how to effectively build a business online from the space of alignment, authenticity, and sacred service for the highest good of the planet. Natalie's methods for teaching content creation, marketing and branding are ones you have never seen before. She meshes inner soul work with unique stratgies and systems development, helping individuals to design THEIR OWN SIGNATURE frameworks for how they share their medicine online. This class and workshop not only will equip you with the tools, knowledge, and education on how to get your content, marketing and brand attracting and impact those you want to serve ... but it will also guide you through the process of awakening your own creator power so you can find JOY and FULFILLMENT in your unique process. This is not "just another class" that'll tell you all the things you've already read and learned before. This is a class and workshop that will hold space for you to discover your own creative ideas and awaken your own authentic methods for how you want to brand, create content and market yourself online ... because the more you do things YOUR UNIQUE WAY, the more you will activate the revolutionary and visionary archetypes within you. And that, my friend, is how you stand out among the masses and see your medicine reaching and helping those who seek it.
How the class and workshop is presented...
The Masterclass: A recorded training class that teaches you the above concepts. The masterclass is pre-recorded and set up as a self-study journey, where the student can flow through the class, learn the concepts, and integrate them on their own time frame and at their own speed.
The Workshop: A workshop replay that will provide you with hands on mentoring and guidance through the concepts taught within the class. The workshop will guide you through creating content, establishing a content plan, and creating your content funnel. The workshop will be an ACTIVE workshop, meaning, you can have support in establishing and setting up the concepts taught DURING the workshop. The workshop will also include WORKBOOK pages that will help you to get the most out of the class and workshop.
For any and all additional questions, contact:
Your Instructor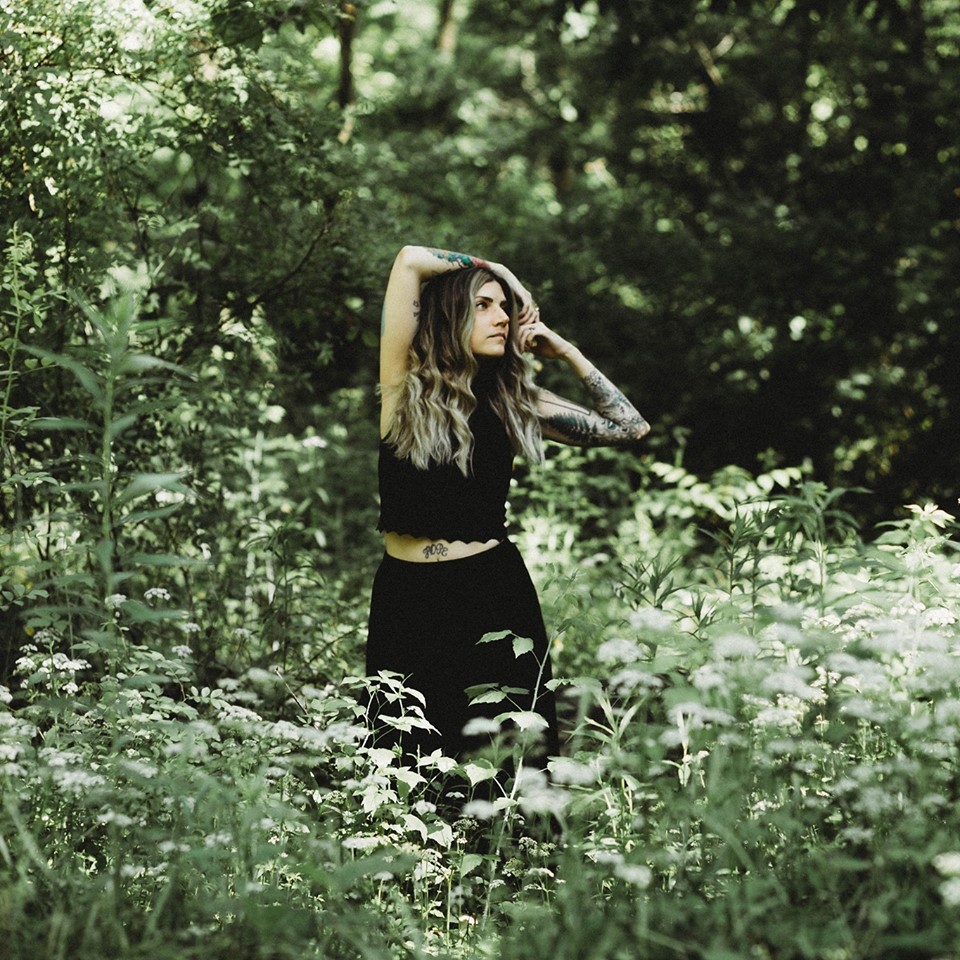 Hi! I'm Natalie Brite, Conscious Business + Leadership Educator out of Portland, Oregon. I am a Leo Sun, Pisces Moon, Manifesting Generator that heavily embodies the rebel, magician, and creator archetypes. What does all of that mean? Well, I am a multi-passionate creative that is pretty fiery, energetic, and driven by default. I am an architect personality type that makes me someone who is very visionary, innovative, and forward-thinking in my approaches to business and life. My signature energetic code has been my guiding compass that has supported me in developing the concepts I teach within my company.

What has led me to doing the work I do today has been due to a compilation of many years worth of experience in the industries of service providing, wellness, and the arts. I come from the background of studying art and philosophy in college, to then going back to school for cosmetology. Throughout the years I have studied everything from design, branding, art, philosophy, consciousness, energy healing, earth+plant medicine, leadership, sociology, ethics, economics, psychology, quantum physics, and more. Being someone who is passionate about a lot of things has equipped me with years of knowledge that I now use to support my clients in building their businesses with. I am forever a student and always expanded my knowledge so that I can stay relevant to current times and best serve my community from the space of integrity, compassion, diversity, and inclusion.

I am motivated by the idea of changing business paradigms and re-imagining entrepreneurship in a way that allows us to do work that positively impacts + gives back to ourselves, society, and the planet. It is my mission to guide you in activating your own signature energetic code for how you want to create + lead your business and life paired with guiding you in developing your own authentic channel for your creative gifts to flow on so that you can do the work you love + make the impact you desire in a way that also gives back to you.

To learn more about Natalie's work, visit: www.nataliebrite.com
Contact Natalie: [email protected] or [email protected]
- - - - -
Diversity makes our world beautiful.
Creating a safe space for you to be who you are.
We are committed to inclusion and equality across gender, age, race, ethnicity, identity and personal experience. We believe that business can be a powerful platform for contributing to social change and we are committed to creating a culture where everyone is encouraged to bring their truth, authenticity, and fullest expression of self into our platform. We are here to foster a learning environment that makes our teaching universally accessible for all; one that encourages, celebrates and supports the diverse voices of our team, clients, customers, and students.
Course Curriculum
Welcome to the class: START HERE
Available in days
days after you enroll
MASTERCLASS
Available in days
days after you enroll
WORKSHOP: Wednesday FEB 26th from 5:00pm PST - 6:30pm PST
Available in days
days after you enroll
Frequently Asked Questions
When does the MASTERCLASS + WORKSHOP release?
February 2020
How long do I have access to the masterclass + workshop?
FOREVERRRR! <3
Are there refunds?
You have a 30 day refund window per Teachable regulations.