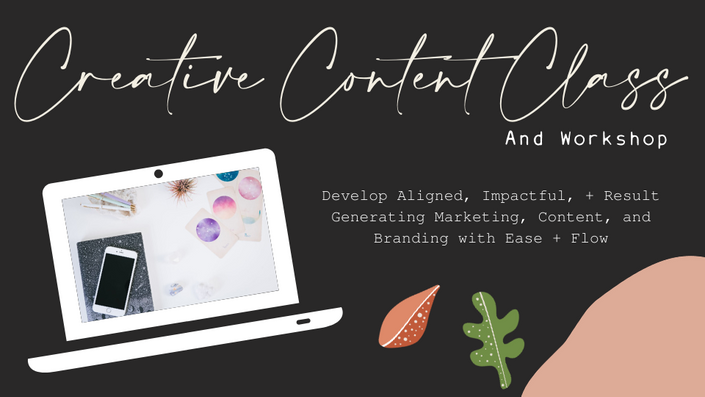 CREATIVE CONTENT MASTERCLASS
Develop a Signature Content Creation + Marketing Approach for your Conscious Online Business
CONTENT CREATOR MASTERCLASS : Find your authentic flow with how you create, plan, and strategize your content + marketing methods!
You deserve to create content and market your signature medicine in a way that feels fun, authentic, and impactful. As an online service provider, conscious creative, and spiritual entrepreneur, I'm sure you know that what you share on your social platforms and the content you create to represent your brand is everything. Your content is the way in which you create vibrational resonance with your niche, and how you attract soul-aligned individuals who need and want the offerings you provide in your business. Your marketing material is the first thing that gives your audience an energetic hit, influencing whether they relate to your message and whether they trust that you can support them in activating the results you specialize in helping people to achieve.
When I first started building businesses online 6 years ago... content creation, marketing, and branding strategies looked A LOT differently than they do now. Building an online brand presence and marketing your business online is one of the fastest growing avenues people take nowadays, where almost every single brand is doing business online. Similarly, entrepreneurship and small business is a fast growing industry, where more and more people are taking to the online platforms to create their legacy and fulfill their souls purpose. With these realms growing, the way in which WE GROW our businesses online has shifted. Old paradigms for how we conduct business are falling away, and in their place new paradigms that are driven by authentic expression, creativity, and unique approaches for how we share our medicine and impact the world.
The Creative Content Masterclass and Workshop is for industry paradigm shifters, spiritual service providers, intuitive business owners, and conscious creatives who desire to create content and market their medicine in a way that gives them FULFILLMENT and SATISFACTION in their process for doing so. This is not a class or workshop for individuals that just want a blueprint handed to them for how to create content or establish marketing funnels. This is not a class or workshop for people who just want to be told what plan to follow, what calendar to instill, or what systems and strategies to put into place. This is a class and workshop for people that already have a business concept (at least somewhat!) established and want to build their content and marketing funnel from the space of ORIGINALITY, AUTHENTICITY, and ALIGNMENT. This class and workshop guides you to tune into your own creative profile and develop your marketing methods by your own design so that you can develop a STAND OUT BRAND PRESENCE that impacts, inspires, and helps you HELP MORE PEOPLE!
This is a 4 Module Masterclass that contains roughly 4 hours of training, teaching, and curriculum!
---
Within this class and workshop, you will learn how to:
-Develop an authentic content creation + planning process that works for YOU!
-Develop clarity and organization with your message, voice, specialty, and content topics
-Develop your own signature content plan, strategy, system and funnel for your content
You will also learn how to:
-Create a powerful brand presence through visual expression
-Create content that is authentic and original
-Create effective content copy writing that activates your voice
-Create powerful service speak that allows you to share and sell your medicine
And finally, you will additionally learn how to:
-Build a sustainable marketing and content funnel
-Scale, automate, streamline and simplify your content and marketing methods
-Grow an engaged and active audience as a byproduct of your creative content
-Amplify your attraction, magnetism and impact so you can attract your soul-aligned niche and serve those who need your medicine
How is this Class and Workshop different, you ask?
Well, for starters you get Natalie Brite supporting you every step of the way! Natalie has been working within the realms of online business for over half a decade. Within that time, she has learned a thing or two about what works and what doesnt in the spaces of content creation, marketing and branding ... and has spent a great deal of her career developing signature frameworks for how to effectively build a business online from the space of alignment, authenticity, and sacred service for the highest good of the planet. Natalie's methods for teaching content creation, marketing and branding are ones you have never seen before. She meshes inner soul work with unique stratgies and systems development, helping individuals to design THEIR OWN SIGNATURE frameworks for how they share their medicine online. This class and workshop not only will equip you with the tools, knowledge, and education on how to get your content, marketing and brand attracting and impact those you want to serve ... but it will also guide you through the process of awakening your own creator power so you can find JOY and FULFILLMENT in your unique process. This is not "just another class" that'll tell you all the things you've already read and learned before. This is a class and workshop that will hold space for you to discover your own creative ideas and awaken your own authentic methods for how you want to brand, create content and market yourself online ... because the more you do things YOUR UNIQUE WAY, the more you will activate the revolutionary and visionary archetypes within you. And that, my friend, is how you stand out among the masses and see your medicine reaching and helping those who seek it.
How the class and workshop is presented...
The Masterclass: A recorded training class that teaches you the above concepts. The masterclass is pre-recorded and set up as a self-study journey, where the student can flow through the class, learn the concepts, and integrate them on their own time frame and at their own speed.
The (pre-recorded replay) Workshop: A workshop replay that will provide you with hands on mentoring and guidance through the concepts taught within the class. The workshop will guide you through creating content, establishing a content plan, and creating your content funnel. The workshop will be an ACTIVE workshop, meaning, you can have support in establishing and setting up the concepts taught DURING the workshop. The workshop will also include WORKBOOK pages that will help you to get the most out of the class and workshop.
For any and all additional questions, contact:
Your Instructor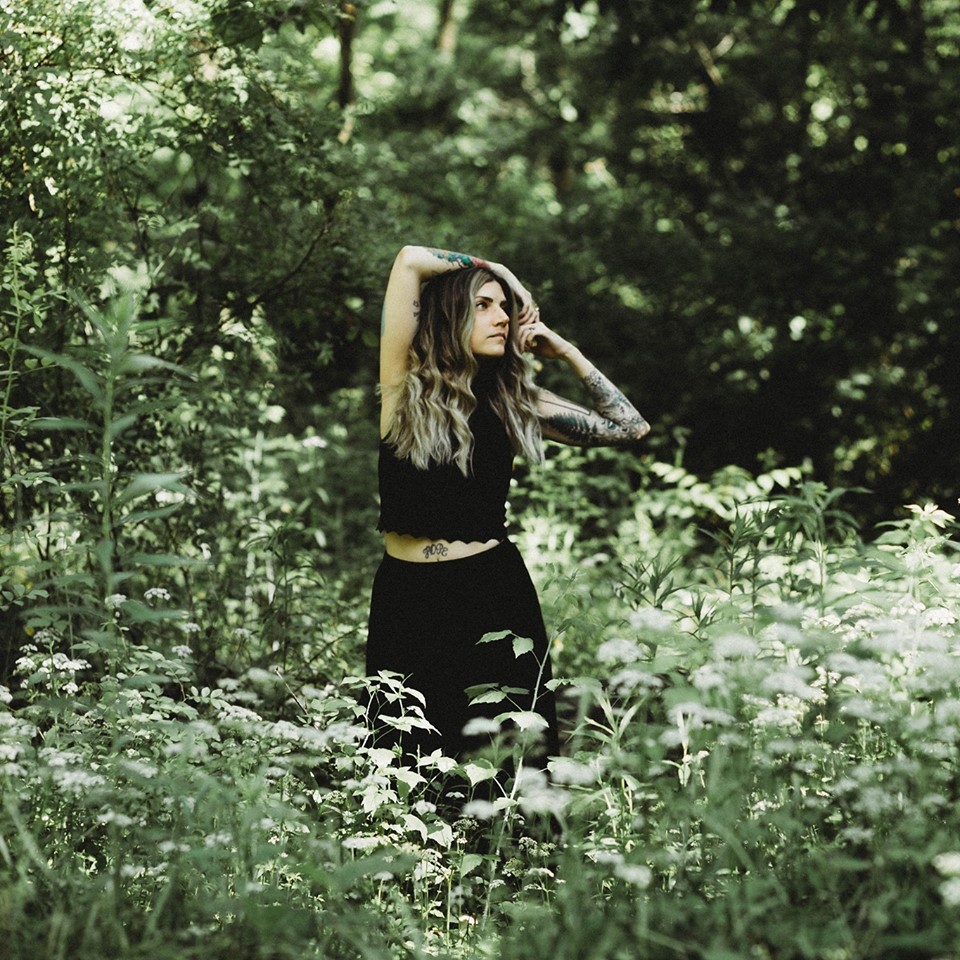 Our mission is to help you
clarify, develop and share your gifts with authentic integrity
while simultaneously
developing the CEO skills needed in order to grow an ethical, aligned, and sustainable online business
that creates a ripple of positive impact on the individual, society and planet.Natalie Brite is a Conscious Business + Leadership Mentor, educator, and creative located in Portland, Oregon - serving the world on a global level. Natalie's Conscious Business Method supports new paradigm entrepreneurs + creative visionaries in starting, growing and sustaining an online business rooted in sovereignty, embodiment, reciprocity, ethics and a triple bottom line impact. Natalie's work is dedicated to empowering the new era of leaders to collectively bring forward a new standard for how we conduct business; a standard driven by authentic integrity and for the vision of creating a sustainable + thriving future for ourselves, society and the planet.
To learn more about Natalie Brite, visit www.nataliebrite.com
Course Curriculum
Welcome to the class: START HERE
Available in days
days after you enroll
MASTERCLASS
Available in days
days after you enroll
WORKSHOP REPLAY
Available in days
days after you enroll
Frequently Asked Questions
When does the MASTERCLASS + WORKSHOP release?
February 2020
How long do I have access to the masterclass + workshop?
FOREVERRRR! <3
Are there refunds?
You have a 30 day refund window per Teachable regulations.