Welcome to Connect to Create!
The Align&Flow Masterclass for cultivating cohesion between science and spirituality for Soulpreneurs and Growth Seekers who wish to learn how to fully understand and integrate alignment, law of attraction and no BS manifestation into your personal and professional life.


I commonly hear from individuals that they struggle with truly understanding what alignment, manifestation and the law of attraction is. I have been receiving countless messages and emails seeking out more information on how to create your own signature daily alignment practice (and why you want one!), how to fully tap in to your own creator power, how to dive into your intuition and be divinely guided, and how to get into the channel of pure manifestation and attraction of what you want. This class is a compiliation of all the questions ive received as well as all the interest ive had in learning more about how you can connect inward and create outward. These classes are going to provide you with teaching, training and material that creates space for you to feel fulfilled, abundant and ENOUGH in this moment while also being open and in flow to actualize what you desire.
---
Masterclass PART 1:
My approach to alignment, law of attraction and manifestation, how it works, vibration and energy introduction, mirroring, inner and outer states of being, the science side of these things and how to integrate them into your life.
Masterclass PART 2:
How to create your own daily alignment practice so to get into your flow space, inner being and intuition cultivation, conscious creating, emotional guidace system awareness, source and universe energy, intention, the spiritual side of these things and how to authentically integrate them into your life.
---
I've been feeling the call to upgrade my service to be one that creates SPACE for you to truly create the business and life that best aligns with your truth. I wasn't sure how that would look and I wasn't sure what I'd be doing.... but I've felt the deep call to speak more, write more and create more.
For Soulpreneurs and growth seekers, the Align&Flow Portal content has been incredible for them to integrate in a way that allows them to truly make shift happen and come home to the power that's been within them the whole time.
My intention is always to provide service that creates SPACE for others to live their truth and activate their souls purpose. Next month, we are creating that space in a new way within the align&flow community.
CONNECT TO CREATE will be teaching how to create cohesion between science and spirituality for Soulpreneurs and growth seekers .... where you will learn all about alignment, no BS manifestation and law of attraction so that you can integrate your own authentic approach to these things into your business and life.
My goal is to provide you with a space to truly master understanding these things so that you can begin to connect more deeply to your inner being, Intuitive guidance system, source and the universe in a way that allows you to deliberately create your human experience with flow and JOY.
I want you to learn how to become so present within yourself, so aware of yourself and so tapped in to your own power .... so that you can feel fulfilled, abundant and enough NOW while being LIT UP to attract, create and manifest what you desire.
---
This Portal will provide you with:
-2 masterclasses - recorded video style
-2 slidedecks - copy of all lessons
-1 mastermind - group coaching session
-access to the align&flow member community.
*Masterclass 1 and slidedeck will be released within your Light Leadership School platform on Monday, September 3rd. Masterclass 2 and slidedeck will be released on Monday, September 17th. Your group coaching mastermind time is TBD and will be declared within the align&flow member community you will have access to.
I cannot wait for you to be a part of this journey.
Endless love and abundance,
Natalie Brite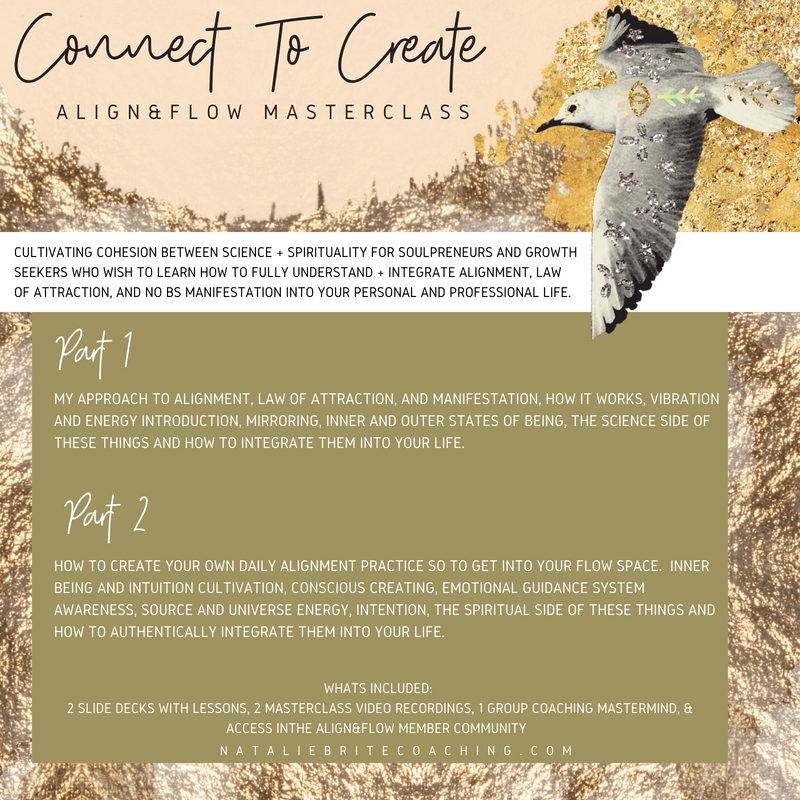 There are two options for accessing this masterclass:
~The avenue below- Masterclass enrollment that provides you with all of the above content plus access to my private align&flow membership community (via Facebook). This option is $33. To go forward with this route, complete enrollment below.
or
~Enrollment into the align&flow membership- a seperate enrollment page (linked below) where you not only gain access to this masterclass, but have access to ALL additional align&flow membership portal content (valued at $250$+!). To become a member, this option is $22 (Yes, you read that right. A crazy value!). To go forward with this option, click here.
For all questions on this masterclass or enrollment inquiries, contact Natalie.