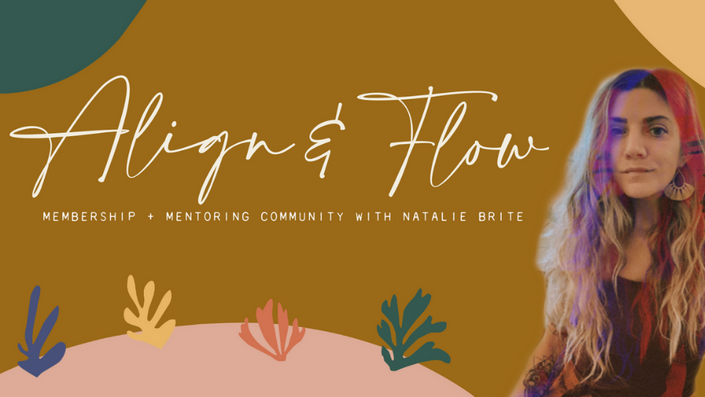 Align & Flow Membership with Natalie Brite
The High Level Business Mentoring and Deep Self Development Platform you have been looking for.
Watch Promo
Enroll in Course
Welcome to the Align+Flow Membership:
The High Level Business + Female Leadership Platform You Have Been Searching For.



The Align+Flow Membership is here to be your support system through all stages of your personal and professional journey, helping you to grow your brand, business and self with ease and flow.

This membership was created for Soulcentric Entrepreneurs, Conscious Creatives, and Female Leaders who want to revolutionize the planet in a meaningful, earth-centered way.

The Align+Flow Community is for women eager to embody their authentic expression and let their creative spirit lead as they share their medicine and do heart-centered work for the highest good of the world.

Welcome to your Sisterhood Space that will support, guide and inspire you to boldly step into your power + take up space so you can create a meaningful impact + sustainable income doing what you love.




Align+Flow is a high value membership community that provides you with access to the 11 primary portals that Natalie Brite has created as pathways to help you grow your brand, business and self with ease + authenticity.

The portals will support you in developing your own signature ways for cultivating a conscious, earth-centered, and creative business and aligned life.

You will learn about concepts like branding, creator profiling, earth-given gifts development, aligning with and embodying your medicine, niche audience and online community, marketing and content strategy, sustainable business foundations and advanced business strategies, business and life rewilding, manifestation and magnetic mindset, time and energy management, female leadership, and other signature concepts that Natalie Brite specializes in teaching.


The Align+Flow Portals support visionaries, forward thinking service providers, creatives, spiritual entrepreneurs, and female light leaders in activating their inner guidance as a way to illuminate their own revolutionary path to creating a business and life that aligns with their values, truths and deepest desires.

As a member you will also have the ability to participate in the Align+Flow Community space, which includes monthly masterminds and daily conversational threads that provide additional value + guidance to help you integrate the concepts taught in the membership.




Whats included:

11 primary portals which include signature classes, courses, and align+flow exclusive library of curriculum.


PORTAL CURRICULUM TOPICS:

Alignment + Embodiment
Manifestation + Magnetic Mindset
Business + Life Rewilding
Planning, Time + Energy Management
Authentic expression, Creativity + Branding
Female Leadership
Conscious Business Foundations
Marketing + Content Strategy
Sacred Social Media
Audience + Community Building
Advanced Business Concepts
Each Align+Flow Portal contains training's pertaining to the portal topic. These portals are ever changing and constantly growing, where new content is going into the membership monthly! As a member, you are granted access to all previously created content as well as all future content created. Beyond the portals of curriculum provided to Align+Flow Members, you also have access to Natalie Brite's signature classes and courses as well as future classes and courses Natalie creates as a bonus of being a member (hundreds of dollars in savings!).
Some of the Signature (and most popular!) Classes you will have access to as part of your membership:
-Vision Mapping
-Creative Content
-Leadership Language
-The Female Leadership Model
-Automate, Scale, and Streamline
The Align+Flow Membership is an all inclusive, judgement free and accepting environment that will raise your vibration and expand your potential as you journey through all the chapters of life and business. We are here to the do work that is aligned with us so that we can feel empowered to be the leaders this world needs us to be.
This membership is designed to be HIGH VALUE at an accessible + affordable price range.

The Align+Flow Membership offers 4 different pricing options, ranging from 1 month commitment to 1 year. It is recommended (but not mandatory!) to commit to a minimum of 3 months with the Align+Flow member curriculum.

The membership is designed to support female leaders and creative, conscious entrepreneurs through all stages of their personal and professional life journeys, making this a membership that is ultra supportive when dedicating oneself to the training over a devoted period of time. The more you learn and integrate the curriculum, paired with the more you immerse yourself in the supportive member community, the more you will get out of the membership and the more you will see the training's support you in expanding and growing your brand, business and self!





BONUS MEMBER PERKS:


Beyond the 11 primary portals that house curriculum within the align+flow membership, there are also BONUS materials that members have access to. This includes things like:
--Support: As a bonus of being an Align+Flow Member, you have constant support right at your fingertips via our membership community space. Within this space you will have direct access to Natalie Brite and the other members, giving you a chance to ask questions, get feedback, share your process, and receive additional value within the community group.


--Intro guide and assessment quiz: As a member you will have access to an intro video and assessment quiz that will help you in discerning what portal content is most aligned for you to open and begin exploring based off what chapter you are currently in within your personal/professional life!


--No social media dependency: The communal aspect of this membership is housed outside of social media, within a private member space that is safe, secure, and intimate. There is also an app that allows you to access the member space with ease! (this new communal platform is a NEW feature of the align+flow membership and will be going live in June 2020. The current member community is housed on Facebook) The curriculum for the membership is housed within Natalie Brite's online (Teachable) school, which also comes with an app.


--Benefits of having access to a high level mentor at your fingertips: One of the key benefits of the Align+Flow Membership is that the facilitator and founder, Natalie Brite, is actively present with the members and provides office hours specifically to support the members daily. You will not only have high value training but a high level mentor at your access!


--New content loaded monthly: The member portals are constantly evolving and new content is being added monthly. The members have the opportunity to submit requests for specific topics and areas they would like training on. Each month Natalie produces an Energy Report, which is a guide for members to use to plan and schedule their businesses and personal lives based off the universal energetic themes as well as based on their personal energetic code. These energy reports are a staple of the align+flow membership and are a supportive monthly tool members use to manifest intentions with ease and flow, both on a personal and professional level!


--Monthly Member Masterminds: Each month we host a mastermind exclusive for Align+Flow Members. This is our chance to get to know one another on an intimate level as well as be supported through specific topics that each months mastermind is covering. The members get to choose what topics they want to designate the mastermind discussions around.


--Guest experts: The Align+Flow Membership provides additional training that is submitted by guest experts. These training's add an additional layer of value to the community and the topics the guest experts teach on range from womb healing, online advertising, email marketing, human design, energy healing, ayurveda, and so much more!
Follow the prompts below to choose which enrollment option you would like to begin your journey with!

If you have previously enrolled in another class or course created by Natalie Brite that happens to be also be accessible as an align+flow member, there are NO REFUNDS on previous purchases of items purchased prior to becoming a member.

Natalie Brite offers an affiliate opportunity to select individuals who align with the concept of this membership. To learn more about how you can become an affiliate and reap the rewards, contact Natalie!



Your Instructor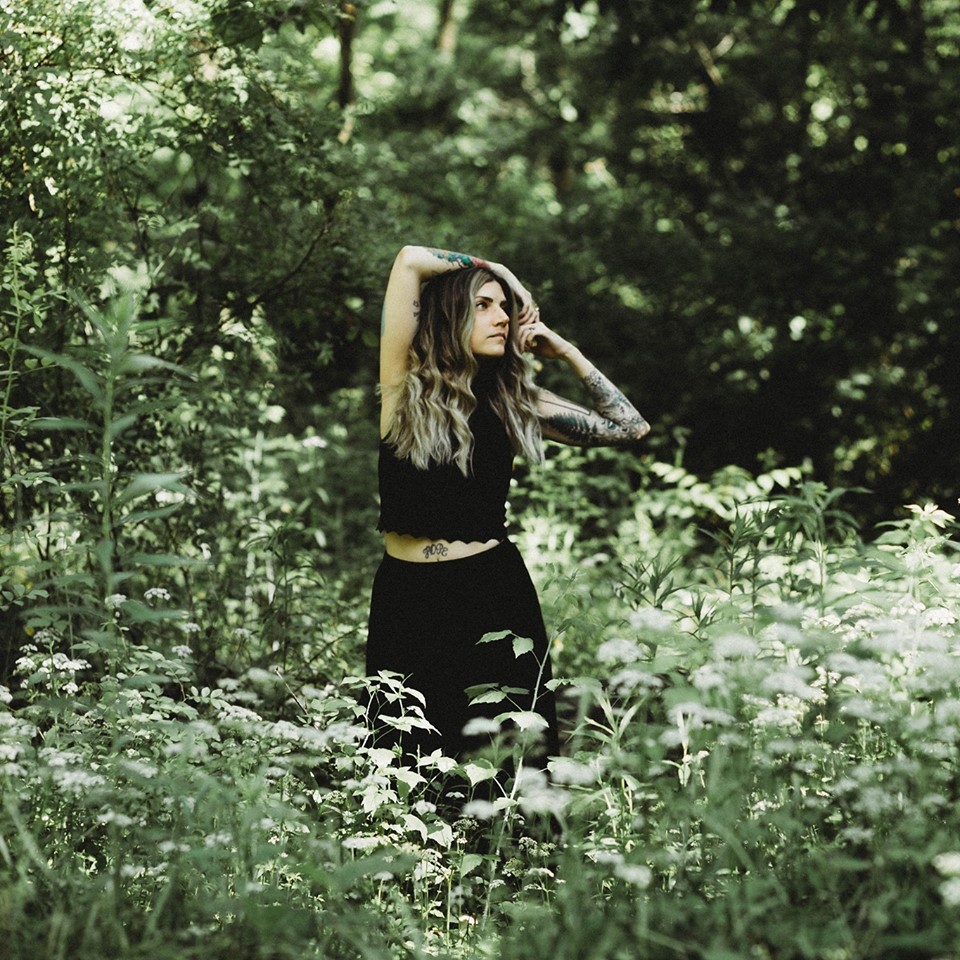 Natalie Brite is a Business + Leadership Educator that specializes in supporting conscious visionaries + creative entrepreneurs in starting + sustaining their online business. She teaches new paradigm principles for developing your brand, service/product suite, marketing strategies, and sustainable business funnel. Her unique approach is one that emphasizes sovereign self expression as the catalyst to creating a thriving business that positively impacts + gives back to the creator, the society, and the planet in the process.
To learn more about Natalie Brite, visit www.nataliebrite.com
Frequently Asked Questions
How do I access the Membership Portal Content?
All content will be loaded into your private teachable membership portal. You will have each months portal guide loaded and accessible within the first week of every month. Alongside your membership portal content, you will have access to my private member-only Facebook group where there is daily discussions, accountability and support ... alongside weekly live video coaching chats and access to Natalie Brite via membership office hours.
How long do I have access to the portal content?
How does forever sound? As long as you are an actively enrolled member, you will have full access to all portal content, including past month content and bonus content listed. *Note: Cancelling your membership will also cancel access to all portal content. This content is copyrighted and non-shareable.
Am I under contract with the membership?
Nope! You can cancel at any time by simply visiting your student settings and updating your information. If you wish to only enroll for specific months that you wish to receive the portal guides, awesome! You can enroll and cancel as often as you wish. Natalie is available for questions whenever you need support in updating your school information or enrollment.
Are refunds available?
There is a 30 day refund policy available through this Teachable-hosted membership. You can learn more about the terms, polities, and conditions of refund policies here: https://support.teachable.com/hc/en-us/articles/219827307-Student-Refunds
When should I expect payments to come out and How do I update my payment information?
You can update all information attached to your membership by simply logging into the Light Leadership School by Natalie Brite and then going to your personal account settings. https://nataliebritecoaching.teachable.com/ Payments come out 30 days from the date you enroll. It is the students responsibility to maintain their account information and settings. Natalie does not have access to any private account information.