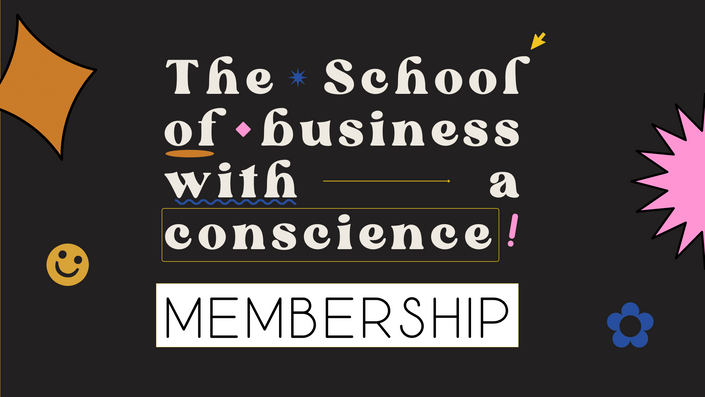 The School of Business with a Conscience Membership
Develop an impactful business, projects or world changing ideas in a conscientious way!
The School of business with a conscience online community supports individuals in bringing their creative projects and business endeavors to life.
Our community is dedicated to assisting, guiding and directing humans through the stages of business and project development. Collaboration is at the heart of our online space and we believe that co-creating in community is the key to creating a big ripple of positive impact on the planet.
YOU ARE JUST MOMENTS AWAY FROM GETTING ACCESS TO TRANSFORMATIONAL TRAINING, SUPPORT AND GUIDANCE THAT WILL HELP YOU TO START AND GROW A BUSINESS WITH A CONSCIENCE!
---
What's included in the School of Business with a Conscience Membership:
An extensive resource library for convenient, self paced learning
Community circles for brainstorming and collaboration
Pop up learning and practice labs for skills development
Co-working labs for group accountability and support
The Align&Flow Membership was created for individuals who...
HAVE IDEAS FOR A BUSINESS BUT ARE UNSURE WHERE TO START 😑

WANT TO MAKE SURE THE FOUNDATION OF YOUR BUSINESS IS ETHICAL AND ALIGNED WITH YOUR VALUES! 👏

HAVE SPENT TONS OF TIME TRYING TO FIGURE OUT HOW TO GROW YOUR BUSINESS… YOU'RE TIRED OF SPINNING YOUR WHEELS 🎢

HAVE AN ESTABLISHED BUSINESS BUT ARE NOT SEEING THE TYPE OF GROWTH AND RESULTS YOU DESIRE 😒

WANT TO ENTER NEW LEVELS WITHIN YOUR BUSINESS, BUT IN A MEANINGFUL AND IMPACTFUL WAY! 🎉

FEEL OVERWHELMED BY THE TASKS YOU HAVE TO MANAGE AND WANT TO EXPERIENCE MORE BALANCE, ALIGNMENT AND FLOW ✌️

HAVE TRIED MANY STRATEGIES TO GROW YOUR BUSINESS AND YOU'RE READY TO DEVELOP MORE ETHICAL AND AUTHENTIC METHODS 😍

DON'T RESONATE WITH TRADITIONAL APPROACHES TO BUSINESS AND WANT TO TAKE A MORE CONSCIOUS, BUSINESS AS UN-USUAL APPROACH! 😀



Ways to learn inside the membership…
Our 6 resource library learning portals will provide you with supportive guidance at each stage of the business and project development process! Our online learning library is housed on Teachable, an easy to navigate online learning platform that you can plug into from a computer or via the phone app! Our resources come in many formats, such as audio, video, written lessons, workbooks, and PDFs to cater to a variety of learning styles.
Co-working labs for group accountability and support
As a member you will have access to our virtual co-working labs where you can work on whatever business or projects you're currently developing in collaboration with others. Our co-working labs are catered to providing members with the opportunity to feel like you are working alongside a team, colleagues or close friends as you co-create together! This helps provide members with a sense of accountability to your mission and vision.
Pop up learning and practice labs for skills development
As a member you will have access to our immersive and experiential pop up learning groups that will support you in developing skills in relation to the various stages of business and project development. Our pop up learning groups and practice labs are often workshop style where you learn and implement in community. At times, we also have guests come in or fellow members lead the pop up learning groups!
Community circles for brainstorming and collaboration
As part of our online membership community, you will have access to virtual community circles hosted on ZOOM as well as access to our private online group that is hosted on MightyNetworks. These spaces provide members with the opportunity to have a reliable area to ask questions, receive feedback, collaborate with others, work through obstacles, and share ideas as a way to help one another grow. This is a great way to contribute to and benefit from collective knowledge!
We are on a mission to harness the power collective efforts have in making planetary change.
Our membership community is rooted in a sustainable development philosophy that combines strategic planning with creative direction and project development.
Within our online community , we educate, advise, and assist people in developing conscious project development and business practices that are innovative and ethical. Our membership is for business owners, creatives and planetary change makers who have a strong desire to make the planet better through the work they do and projects they create.
Your Instructor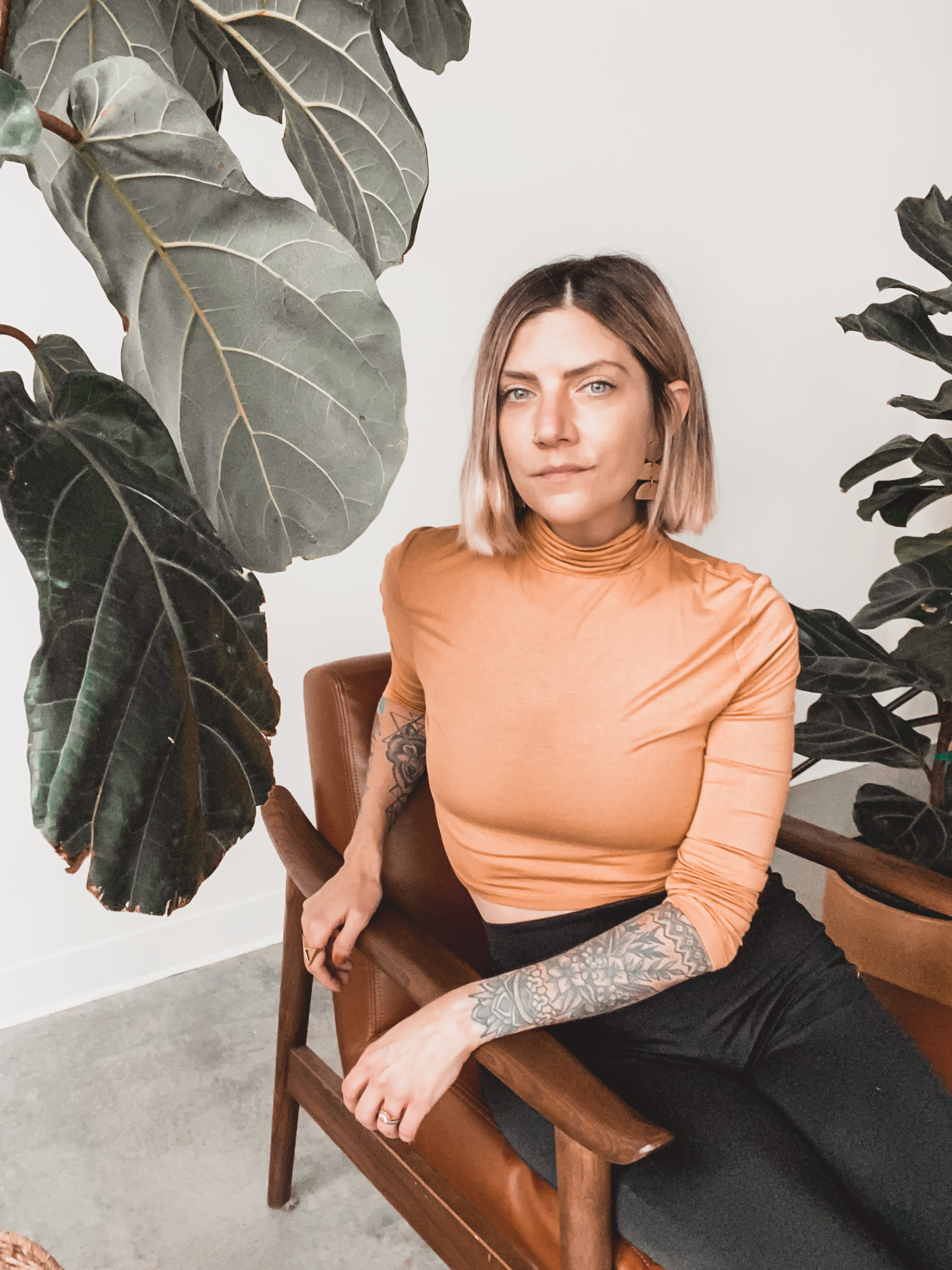 Hello. I'm Natalie Brite (she/her), a Portland based creative director, business and project developer and strategist .
I specialize in sustainable development, branding, marketing, and strategic, whole systems planning for impact driven folks.
Frequently Asked Questions
How do I access the Membership Portal Content?
All curriculum is accessible via your teachable membership portal. Alongside your membership portal content, you will have access to the private member-only MightyNetworks Community group where there is daily discussions, accountability and support ... alongside monthly community masterminds and live lectures. Emails are sent out monthly to members to share upcoming events and details regarding new content thats released!
How long do I have access to the portal content?
How does forever sound? As long as you are an actively enrolled member, you will have full access to all portal content, including past month content and bonus content listed. *Note: Cancelling your membership will also cancel access to all portal content. This content is copyrighted and non-shareable.
Am I under contract with the membership?
Nope! You can cancel at any time by simply visiting your student settings and updating your information. If you wish to only enroll for specific months that you wish to receive the portal guides, awesome! You can enroll and cancel as often as you wish. Natalie is available for questions whenever you need support in updating your school information or enrollment.
Are refunds available?
There is a 30 day refund policy available through this Teachable-hosted membership. You can learn more about the terms, polities, and conditions of refund policies here: https://support.teachable.com/hc/en-us/articles/219827307-Student-Refunds
When should I expect payments to come out and How do I update my payment information?
You can update all information attached to your membership by simply logging into Teachable account and then going to your personal account settings. https://nataliebritecoaching.teachable.com/ Payments come out 30 days from the date you enroll. It is the students responsibility to maintain their account information and settings. Natalie does not have access to any private account information. *As a member: Turn on marketing emails to receive monthly email information about the membership!
Let's do work that benefits us, society, and the planet.
We are all about taking an UN-usual approach to business and project development, which means our online community puts great emphasis on helping members adopt practices and standards that allow you to fall in love with your creative process. Our membership values taking a circular, whole systems avenue to business and project development, which teaches members to cultivate their ideas in a balanced way in hopes of disrupting the toxic capitalistic status quo that is harming people and the planet. We are here to redefine success, wealth and abundance in a way that does not depend on money hoarding, unhealthy materialism or overconsumption!
Click the button below and head to our enrollment page where you can choose the registration tier that best suites you!
Looking for the Equitable Accessibility Tier?
Click here to access our discounted trial tier for those facing financial hardships or limited access to resources!
This course is closed for enrollment.